Discover exceptional picnic areas with a view for a true fresh air waterside experience. In Rideau Lakes, green spaces provide an immersion into the natural lakefront environment like no other, along a UNESCO World Heritage Site – The Rideau Canal – preserved by Parks Canada and Rideau Valley Conservation as well as our many inland lakes preserved by the Cataraqui Region Conservation Authority.
Take time to savour the best things in life: time to reconnect with a friend or with family, explore quaint villages, enjoy a wholesome picnic of locally grown and homemade foods, walk heritage routes sprinkled with historic architecture, paddle a stream, lounge by the lake, or read a book under the shade of a tree.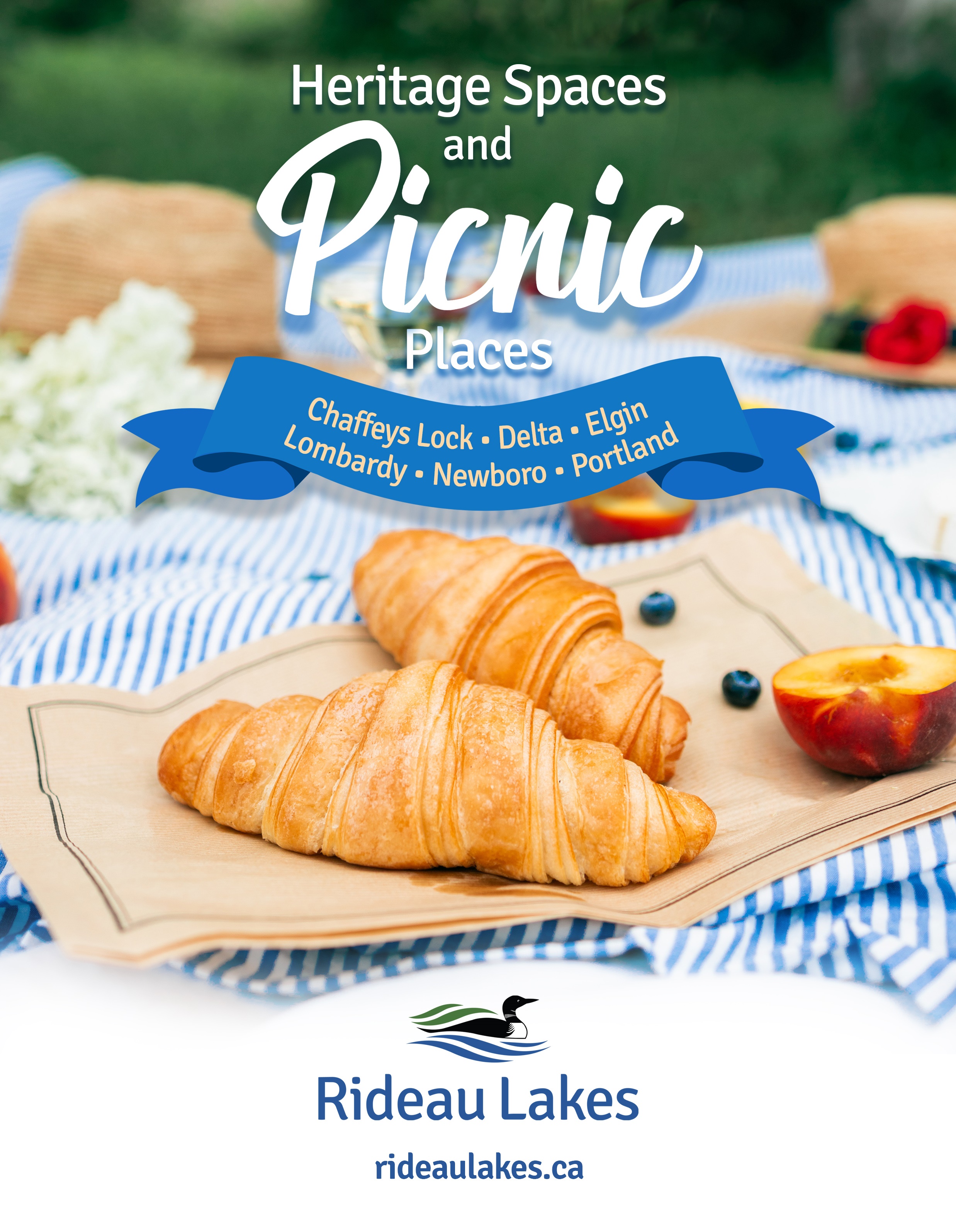 Download the amazing new Picnic Guide for details, and try one of the 26 picnic places in and around the quaint villages and historical communities of Rideau Lakes:
Rideau Lakes boasts six scenic lock stations on the Rideau Canal, ten waterfront parks and ten inland parks that are ideal for picnics: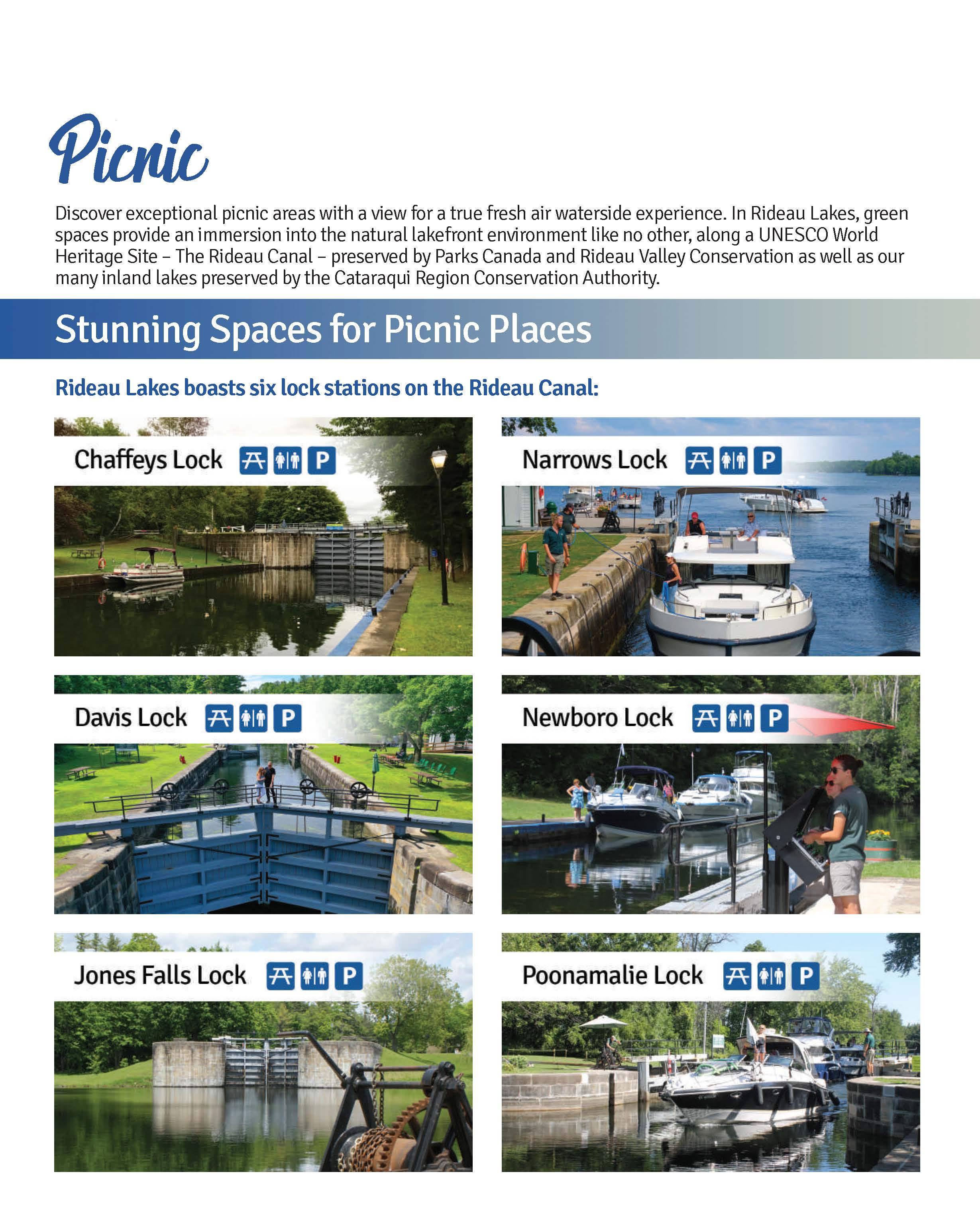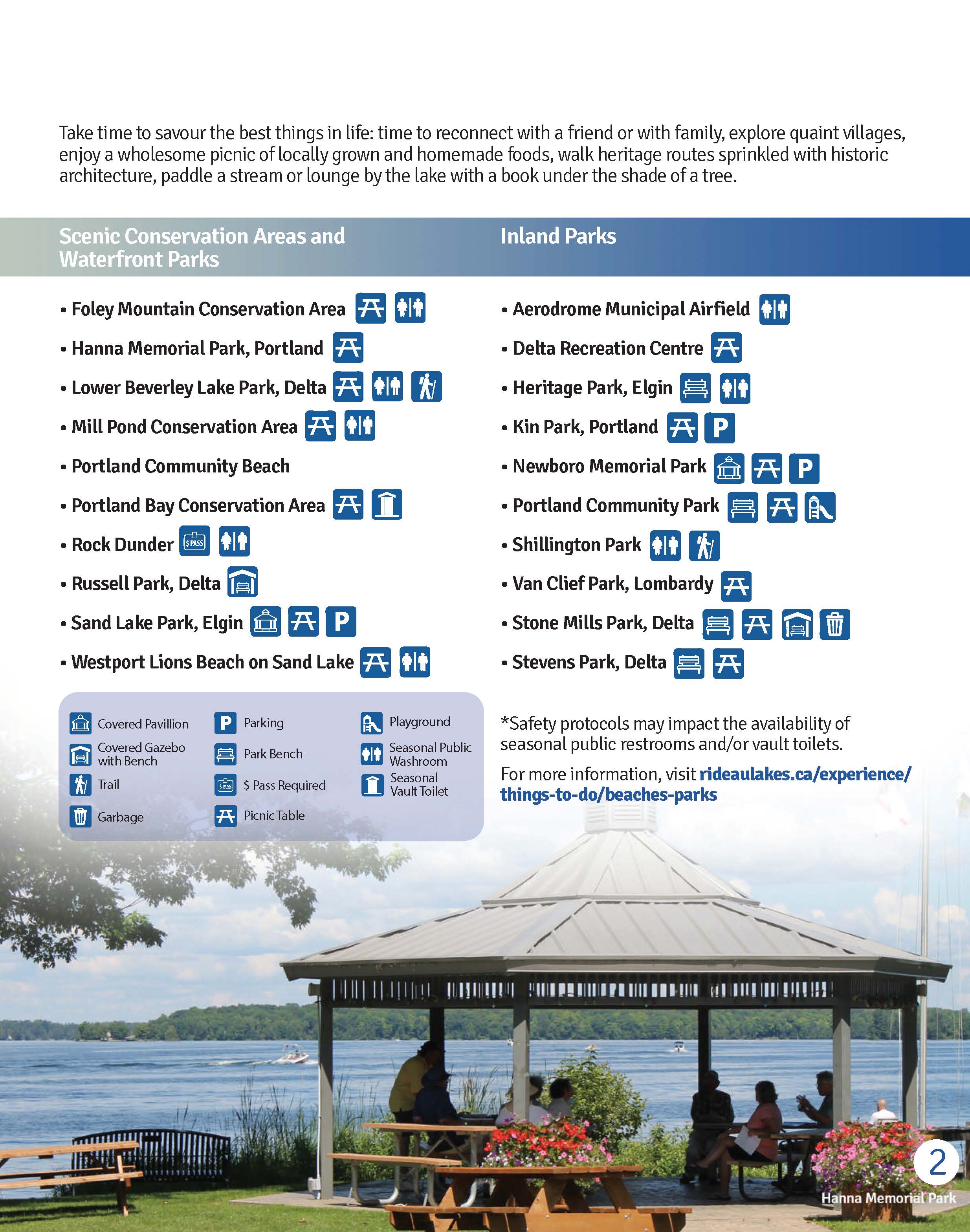 Stunning Lockstations on the Rideau Canal
Chaffey's Lock
Davis Lock
Jones Falls Lock
Narrows Lock
Newboro Lock
Poonamalie Lock
Top 10 Scenic Conservation Areas and Waterfront Parks
Foley Mountain Conservation Area
Hanna Memorial Park, Portland
Lower Beverley Lake Park, Delta
Mill Pond Conservation Area
Portland Community Beach
Portland Bay Conservation Area
Rock Dunder
Russell Park, Delta
Sand Lake Park, Elgin
Westport Lions Sand Lake Beach
Top 10 Inland Parks
Aerodrome Municipal Airfield
Delta Recreation Centre
Heritage Park, Elgin
Kin Park, Portland
Newboro Memorial Park
Portland Community Park
Shillington Park
Van Clief Park, Lombardy
Stone Mills Park, Delta
Stevens Park, Delta
For more information on Beaches and Parks in Rideau Lakes, visit the Beaches and Parks page.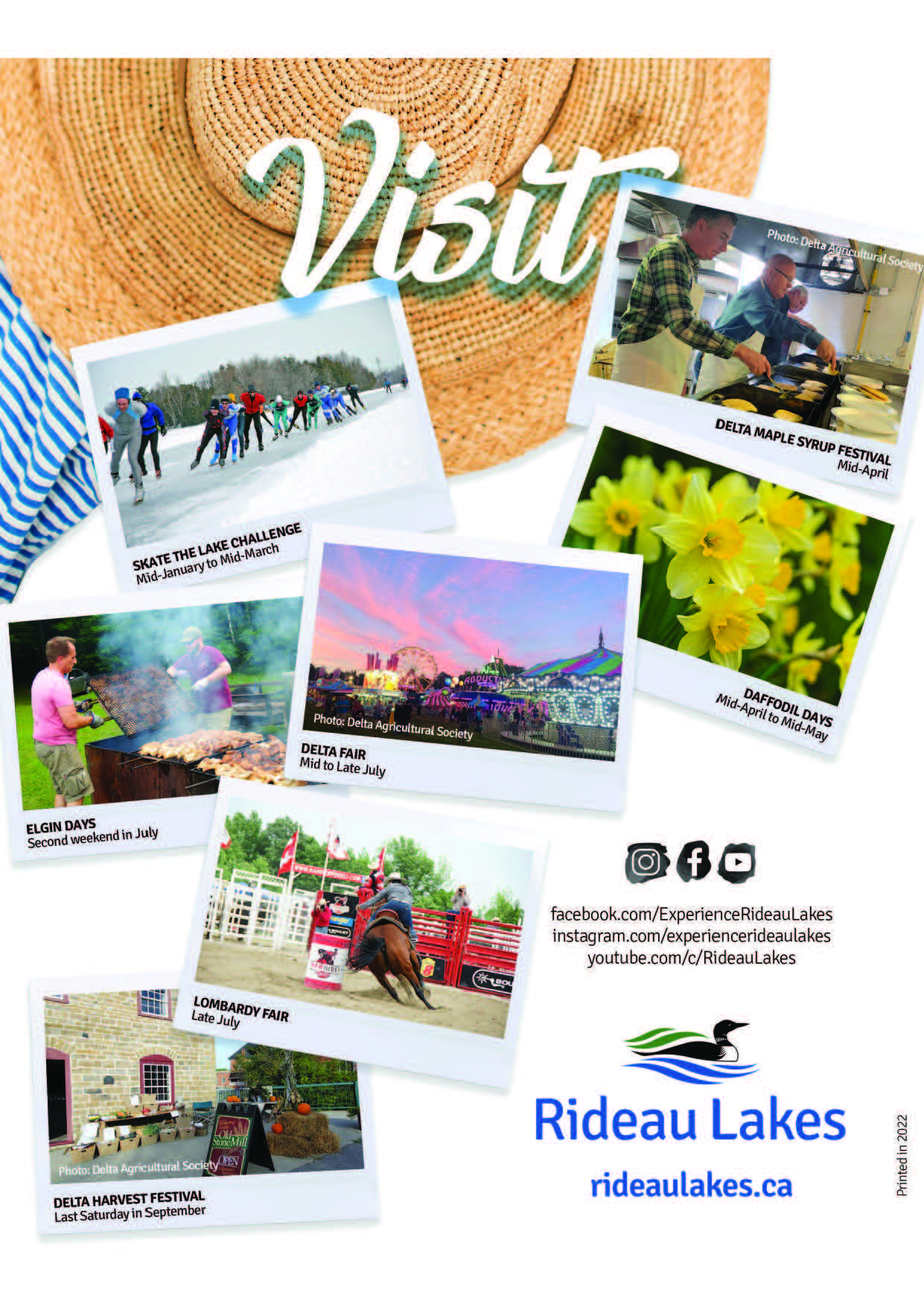 From summer concerts to flea markets to agricultural fairs, Rideau Lakes is home to your favourite traditional family events as well as engaging new youth-inspired music festivals - all set in the beautiful landscapes and villages along the Rideau system.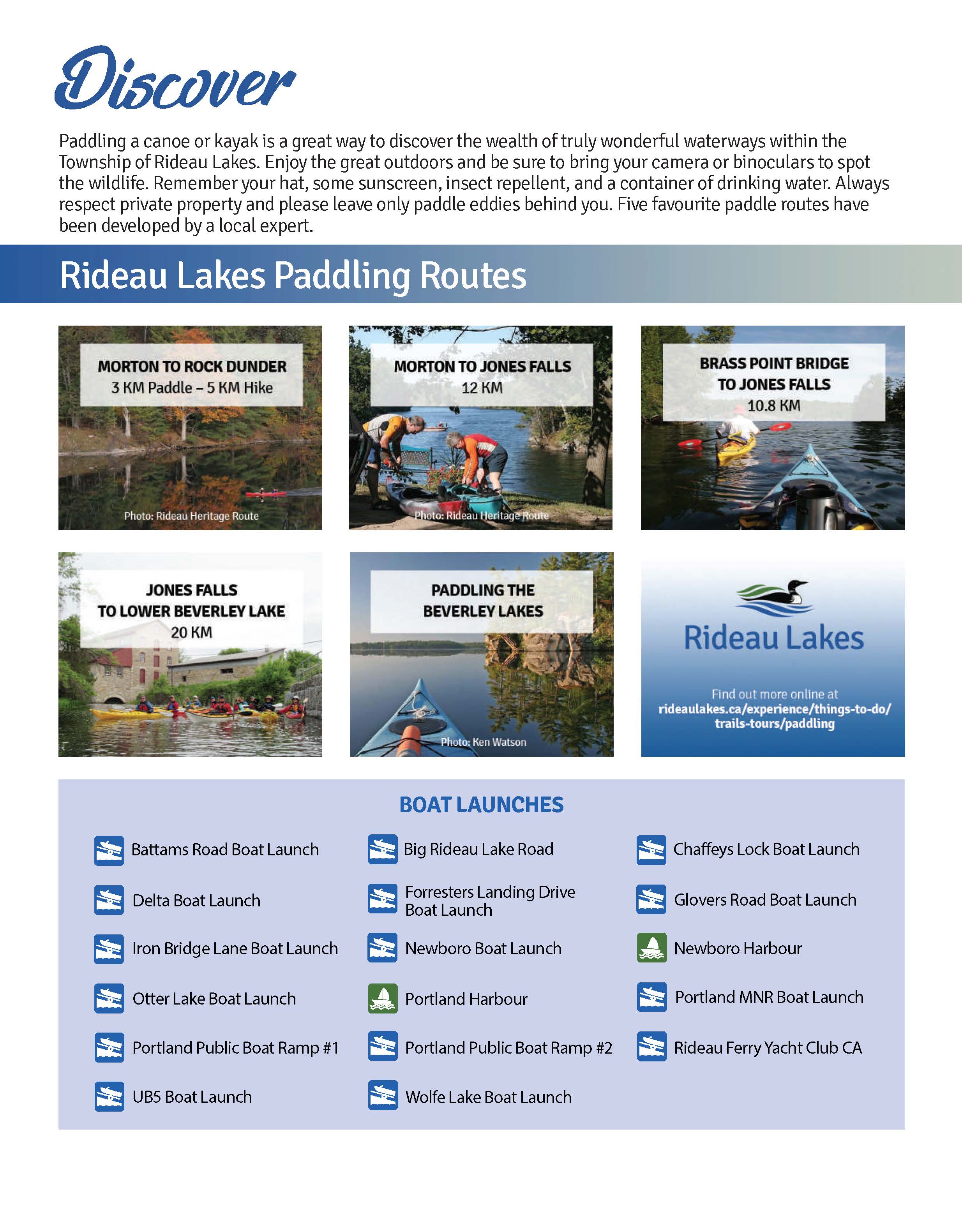 The Township of Rideau Lakes offers a series of village walking tours, heritage driving tours, cycling routes and paddling journeys. Visit Trails and Routes page.
Details on all 26 picnic places, 6 villages and historical communities are decsribed in the new guide to Heritage Places and Picnic Spaces in Rideau Lakes!
More things to see and do - by boat, by foot, by paddle or by tire - are only a click away. Check out the webpage at www.experiencerideaulakes.ca
Follow us on Facebook to get the latest news and events.