Download the map
"
Delta is a vibrant community rich with heritage and natural amenities. Delta will leverage its assets to foster a mixed community that supports families, seniors, youth, and visitors through sustaining and developing local services.
"
Delta has a beautiful natural rural landscape, is rich in heritage, and is located in the centre of the Frontenac Arch Biosphere, between two pristine lakes.
Click on the photo to begin the slideshow
Currently the village has a library and a recreation centre that includes a rink, tennis court and offers other sports. Lower Beverley Lake Township Park is a family park and offers lots of room for family camping, cottages for rent, a beach and a boat launch, a great playground for children and the village ball diamond.
In early April, the Delta Maple Syrup Festival (1967) celebrates that sweet local nectar, maple syrup.
At the end of July, the Delta Fair (1830), one of Canada's oldest fairs, (now 190 years old) is held. Originally an agriculture fair, it has expanded to include many fun activities for the whole family and is a social hub and homecoming. Its agricultural roots remain with events such as home craft judging, tractor pulls, horse pull and shows and the ever popular Midway.
The last Saturday in September is the Harvest Festival (since 2015) centered on the Old Stone Mill with lots of local produce, crafts, and hot apple cider.
Winter brings Delta's Yuletide Magic of Lights – beginning the last weekend in November and every evening throughout to the New Year the Old Stone Mill is beautifully lit with "candles" and thousands of Christmas lights are on display throughout the village of Delta.
Along with the Fair and Festivals, Delta has many other attractions and organizations like the United & Baptist Churches, St Paul's Community Centre, Branch 207 of the Royal Canadian Legion and Auxiliary, Delta Fire Station, Delta Mill Society and many other groups in the community who work together to ensure the success of continuing major events. This vast volunteer network always has room for newcomers.
The main attraction in Delta is the Old Stone Mill, built in 1810, now a museum and a designated National Historic Site of Canada that brings people from all over the world. The Mill has been completely renovated and had working millstones installed for its 200th anniversary in 2010. It is open to the public from Victoria Day weekend to Labour Day and on special events, where it continues to grind and sell locally grown heritage Red Fife wheat, offers interpretation, exhibits and employs local students annually to conduct guided tours.
There are public boat launches on both the Upper and Lower Beverley Lakes and access to the UNESCO Rideau Canal is nearby (at Portland and Newboro).
Local services within the Township of Rideau Lakes include Country Roads Community Health Centre and several pharmacies. The urban centres of Kingston, Brockville, Smiths Falls and Ottawa are close by for hospitals, shopping and entertainment.
Enjoy delightful walking tours of the village, cycling routes through the scenic countryside and quality paddling on both Upper and Lower Beverley Lakes.
The residents of Delta have always taken pride in their community and no more so than with the creation of the Delta Community Improvement Committee who after the last restaurant closed, decided it was time to revitalize the community. A marketing strategy created the DO Delta Ontario logo, web site and Face Book page. The DCIC's current project is the Delta Waterfront Project, right in the heart of the community, and across from the Jubilee Block, which is in the process of restoration.
This park will bring a sense of place to the main hub of our community. There will be an accessible ramp so everyone can meander down to the waterfront to just sit by the water or access a boat. There will be better and more stabilized docking, a kayak launch, and an Amphitheatre. Boaters will once again be able to come up the Delta Creek and dock their boats to access the local businesses, community services, and heritage destinations.
Delta is a destination that calls people home and welcomes others to come and see!
Delta is located on traditional Anishinaabe territory. In February 1794, Able Stevens, a United Empire Loyalist from Vermont, led several families into the area, settling on Plum Hollow Creek. The area was unsurveyed at the time, but after the establishment of Bastard Township, Stevens, in June 1796, was granted land, including the area of today's village of Delta. Although initially known as Stevenstown, after the opening of the Old Stone Mill in 1812 (built 1810-11), the small village became known as Stone Mills. In 1827 the name was changed to "Beverley" after Chief Justice John Beverley Robinson who donated a bell to the Anglican Church. The name was officially changed to Delta in 1857, since the triangular area between the lakes resembled the Greek letter delta.
Delta prospered as a farming and industrial village, which supported pioneer trades, general stores, smiths, hotels, churches, carriage works, a distillery, brickyard, foundry, cheese factory, tannery, newspaper and even a hospital. For more information about our history please visit www.deltamill.org or www.deltaontario.com.
View Delta's Heritage Plaques.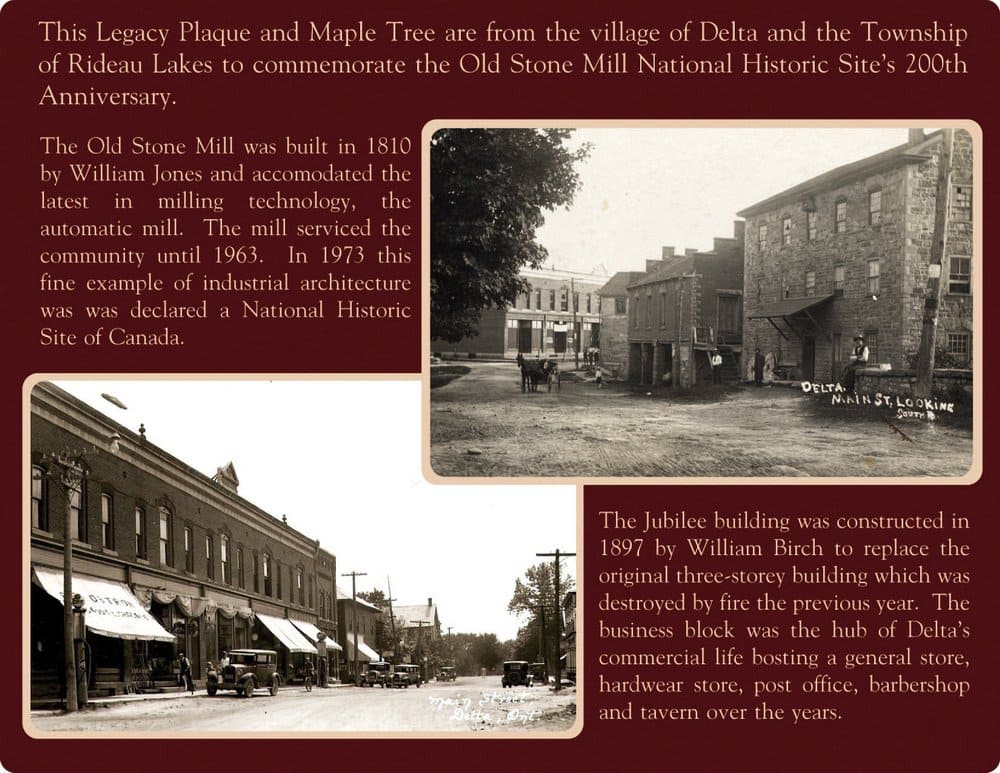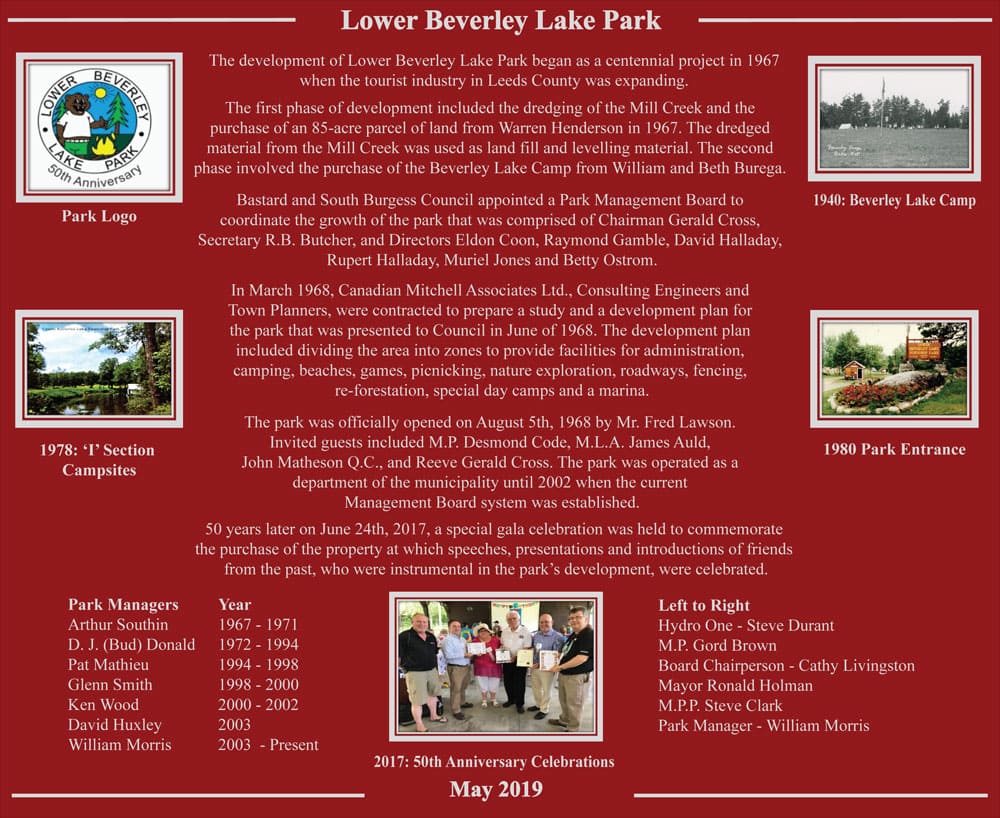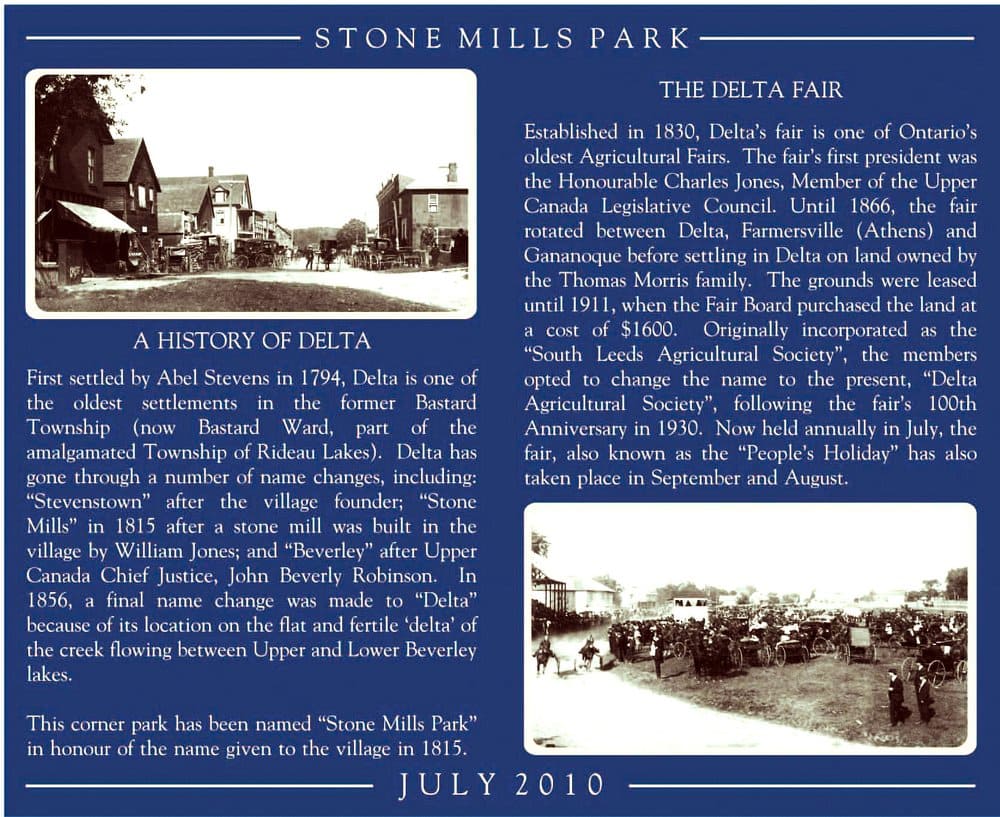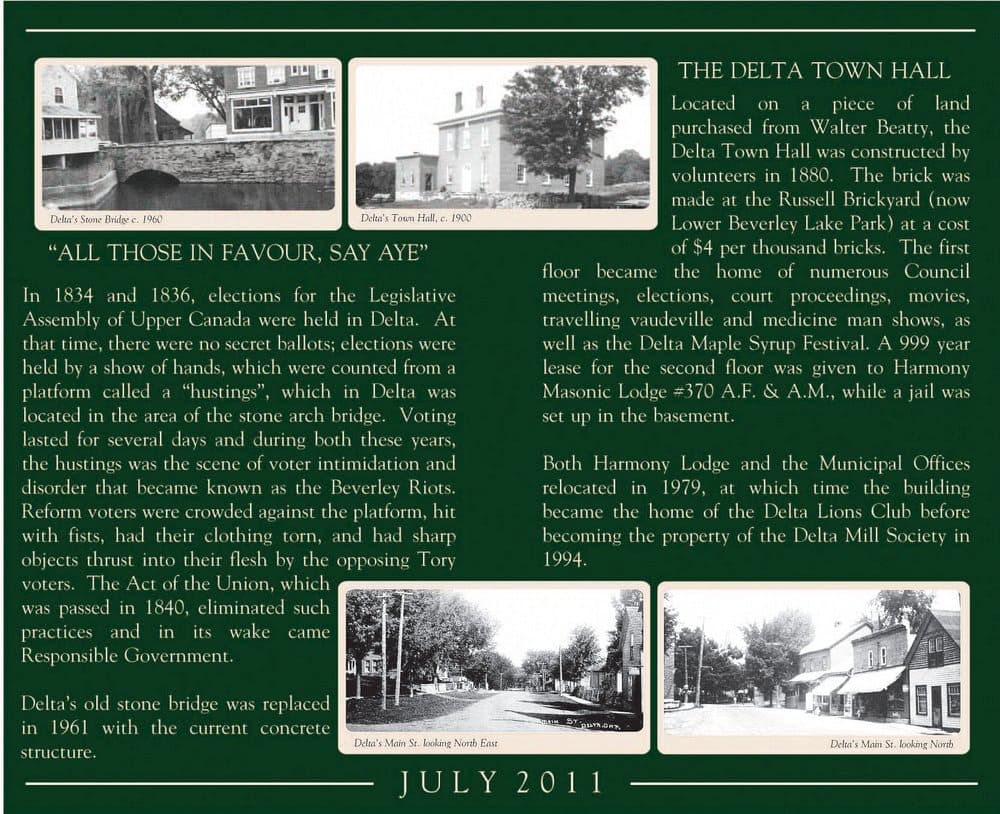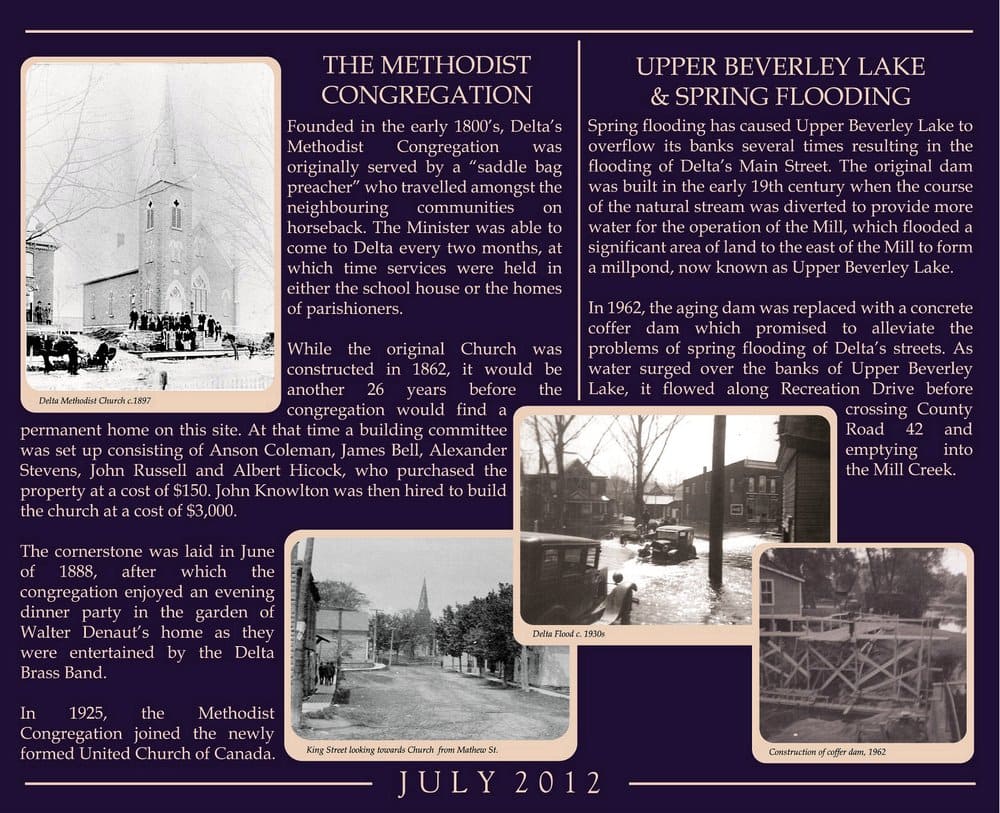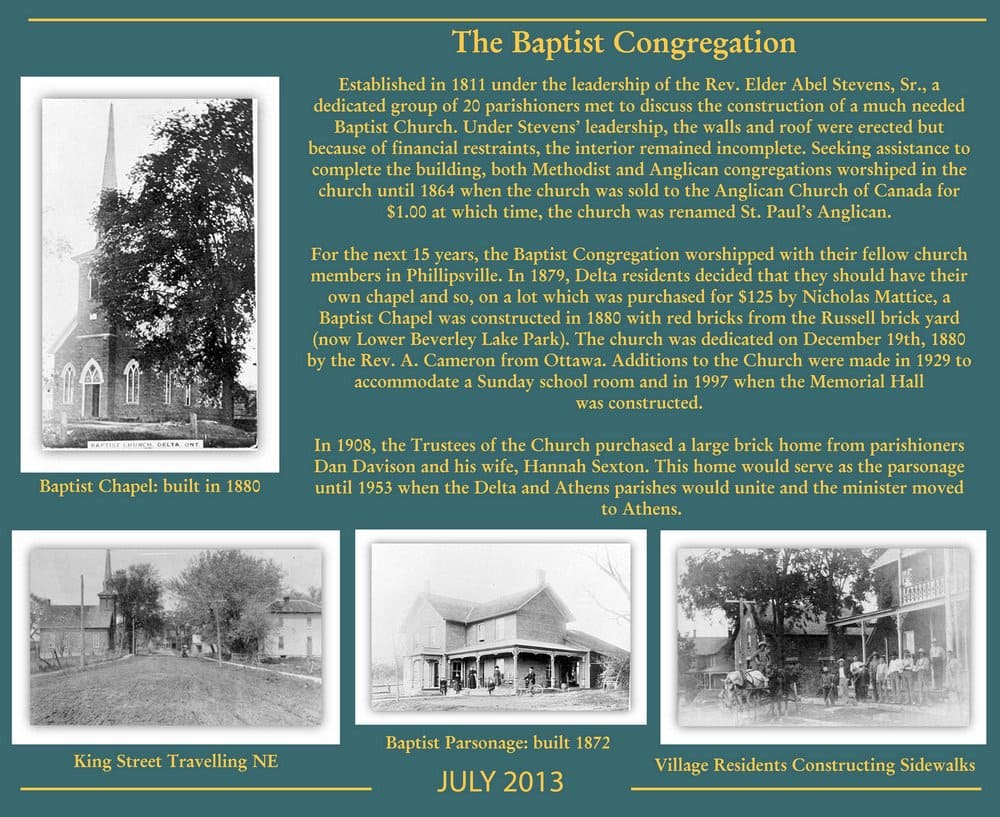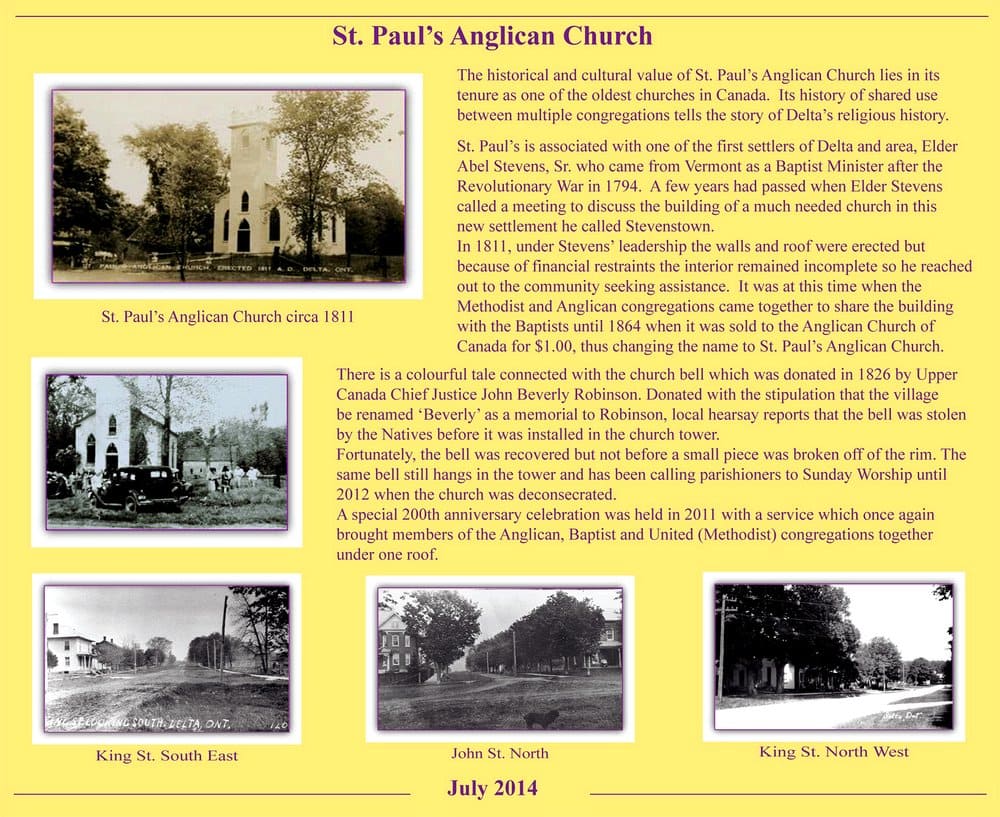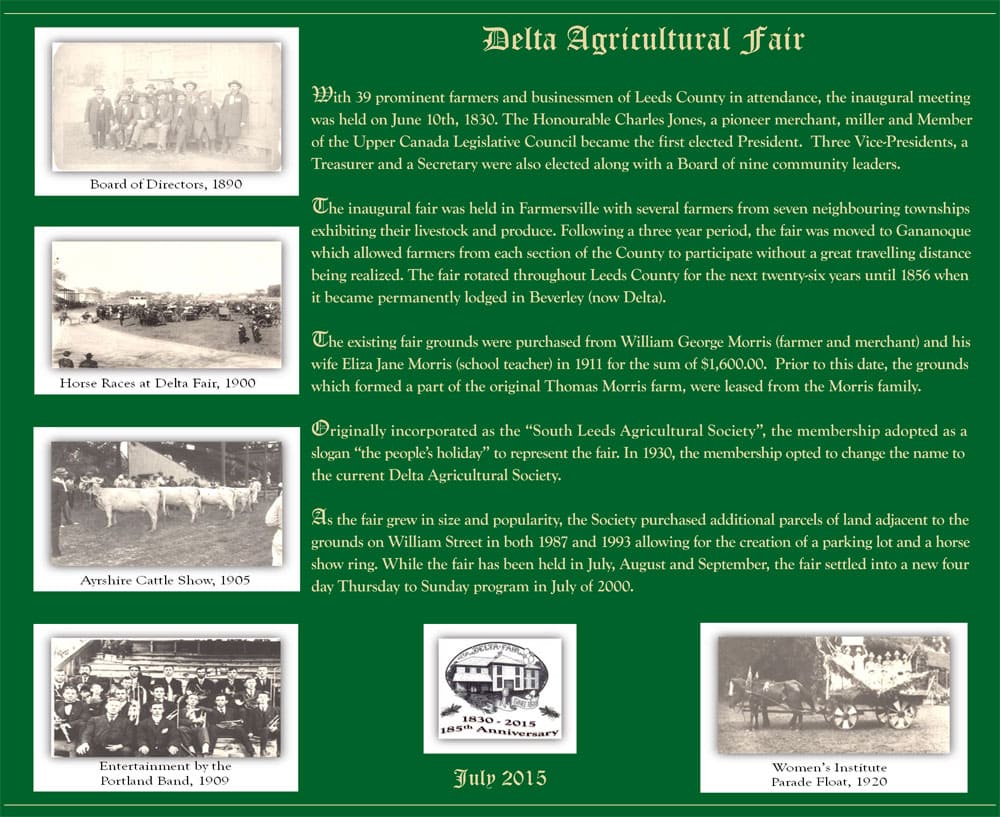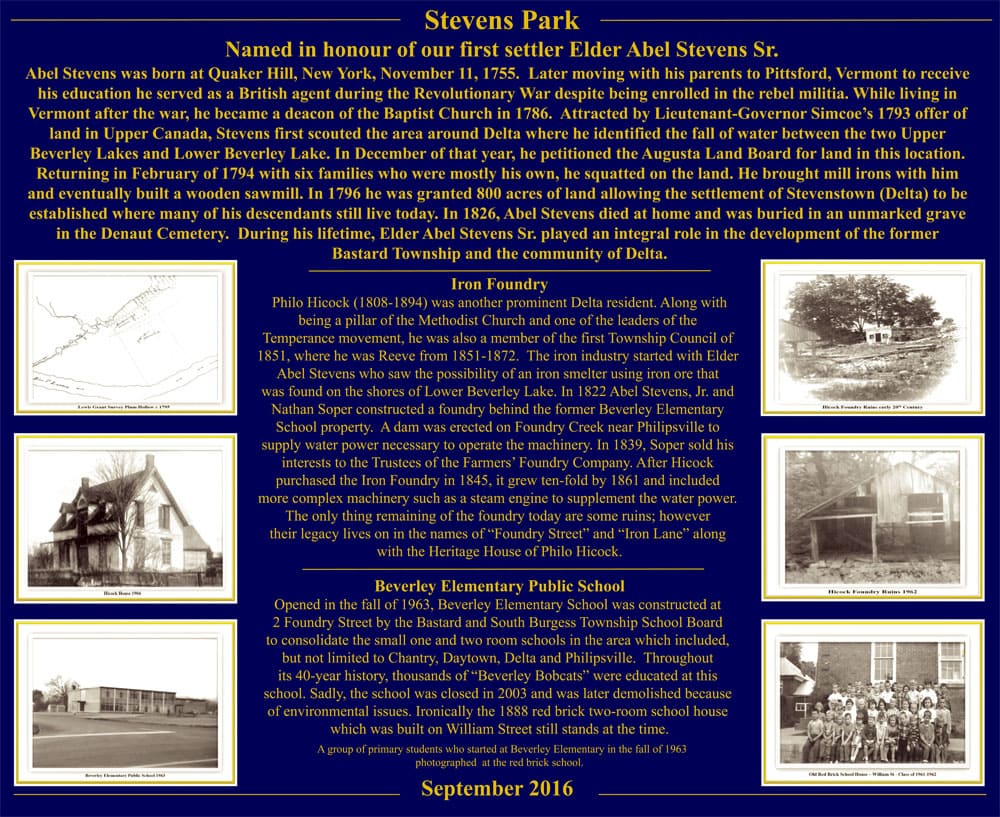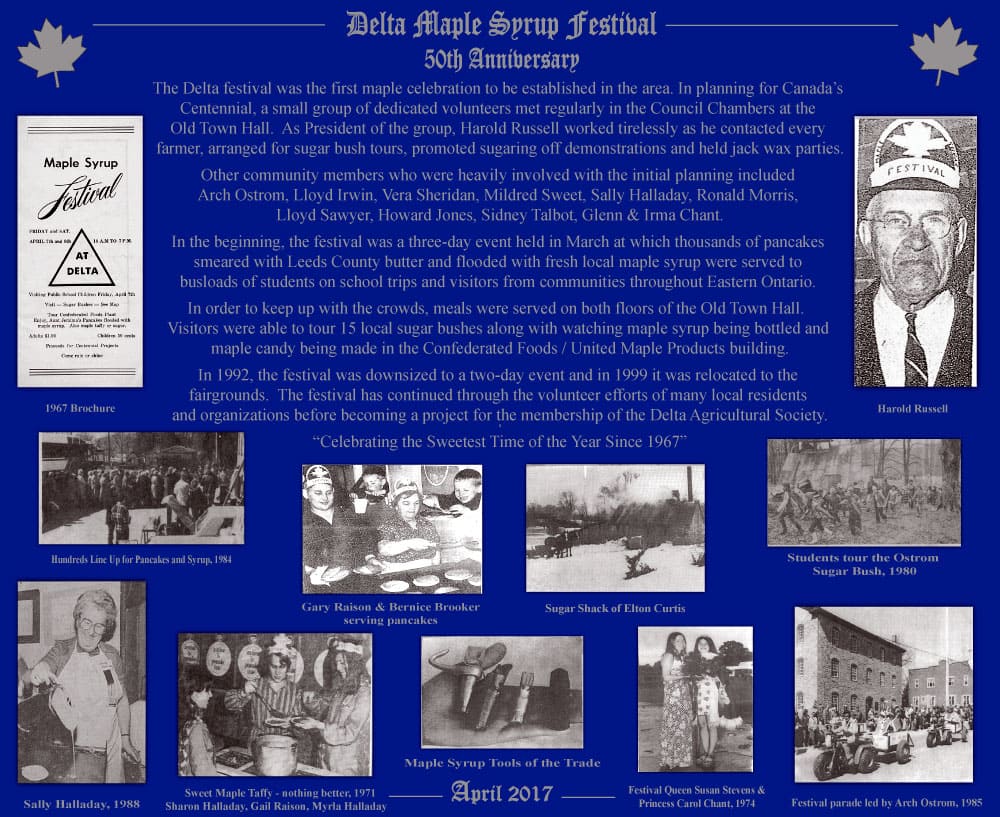 Click on a plaque to enlarge
Documentary Film:
Beverley Riots and a Death in Philipsville
Historic Photographs of Delta:
Video:
Milling Demonstration by Chris Wooding at the Old Stone Mill
Read the Latest Delta Pilot
Read the Latest The Delta Millers' Newsletter