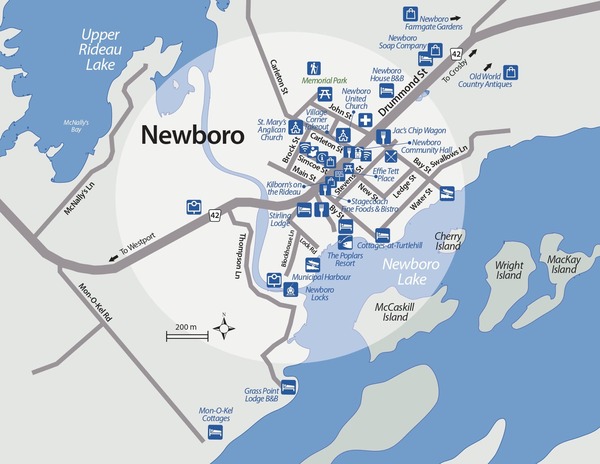 Download the map
A small community located on County Road 42, Newboro is a popular destination spot for anglers wishing to land one of the many Largemouth Bass that inhabit Newboro Lake. Located adjacent to the Newboro lock station on the Rideau Canal, Newboro is also a popular stop for boaters. It is a good place to shop or to dine at one of the local restaurants or inns.
Newboro is the site of one of the four blockhouses built by Colonel John By to protect the Rideau. Whether you come by boat or by car, the lock station is a nice place to stop, get out, and stretch your legs. Also, check out the Newboro Loon, located in "downtown" Newboro.
Click on the photo to begin the slideshow
The History of Newboro
During the construction of the Rideau Canal, it was necessary to dig a two-kilometer-long channel to span the isthmus that separated Rideau Lake from Mud (Newboro) Lake. This channel linked the navigable waters of the Rideau River System, which flows northward to what later became Ottawa, with the Cataraqui River System, which flows southward to Kingston, the St. Lawrence and Great Lakes. This cut through the isthmus proved to be one of the most difficult works undertaken in the building of the canal as it necessitated excavation through the ridge of limestone and Canadian Shield granite that formed the height of land separating these two river systems. Many lives were lost to accidents and swamp fever (malaria), and several contractors went bankrupt. Ultimately the excavation was completed under the supervision of the 7th Company of the Royal Sappers and Miners between 1829 and 1832, allowing boats to travel the length of the canal from Ottawa to Kingston. The lock station at Newboro was originally called "The Isthmus".
A community grew up on the east side of the canal where a toll ferry, and later a bridge, took travellers across the channel. A block house or fort was added and garrisoned for several decades against feared Yankee invasion. Today, Newboro Lock is one of only three in the Rideau System that has hydraulically-operated steel gates.
Located at the junction of the canal, a 'stone road' and later a rail line, Newboro thrived and grew as a meeting and commerce centre through the 19th century. Although it suffered several devastating fires, many of Newboro's original buildings survived. Today, they anchor the character of this community as part of the Rideau Canal – UNESCO World Heritage Site and its reputation across North America as a mecca for recreational fishing in summer, festivities on snow and ice in winter, and shopping all year round.
Storyboards
View two Newboro Storyboards: 1. Historic Newboro and 2. Newboro - Historic Centre for Sport Fishing.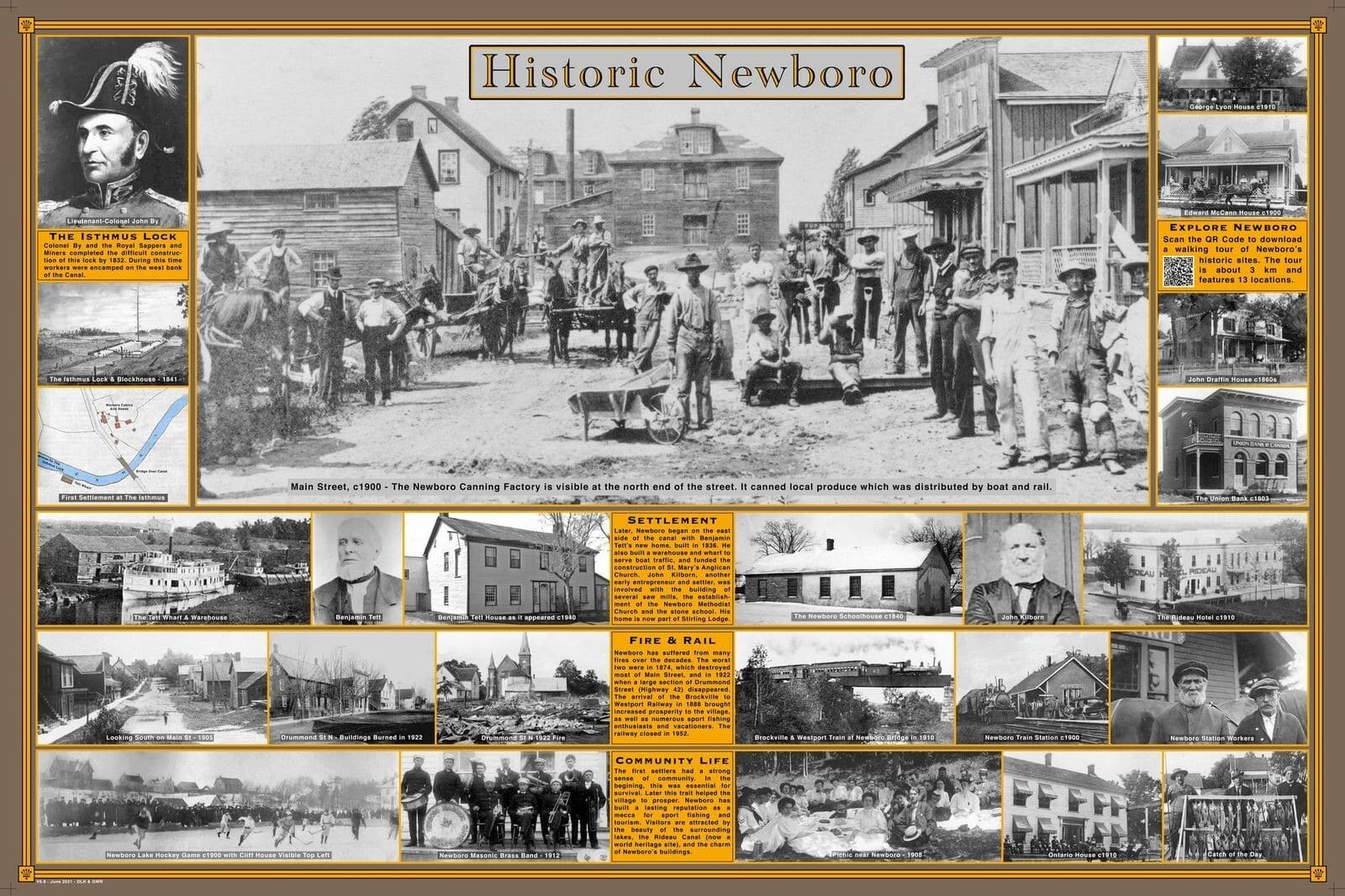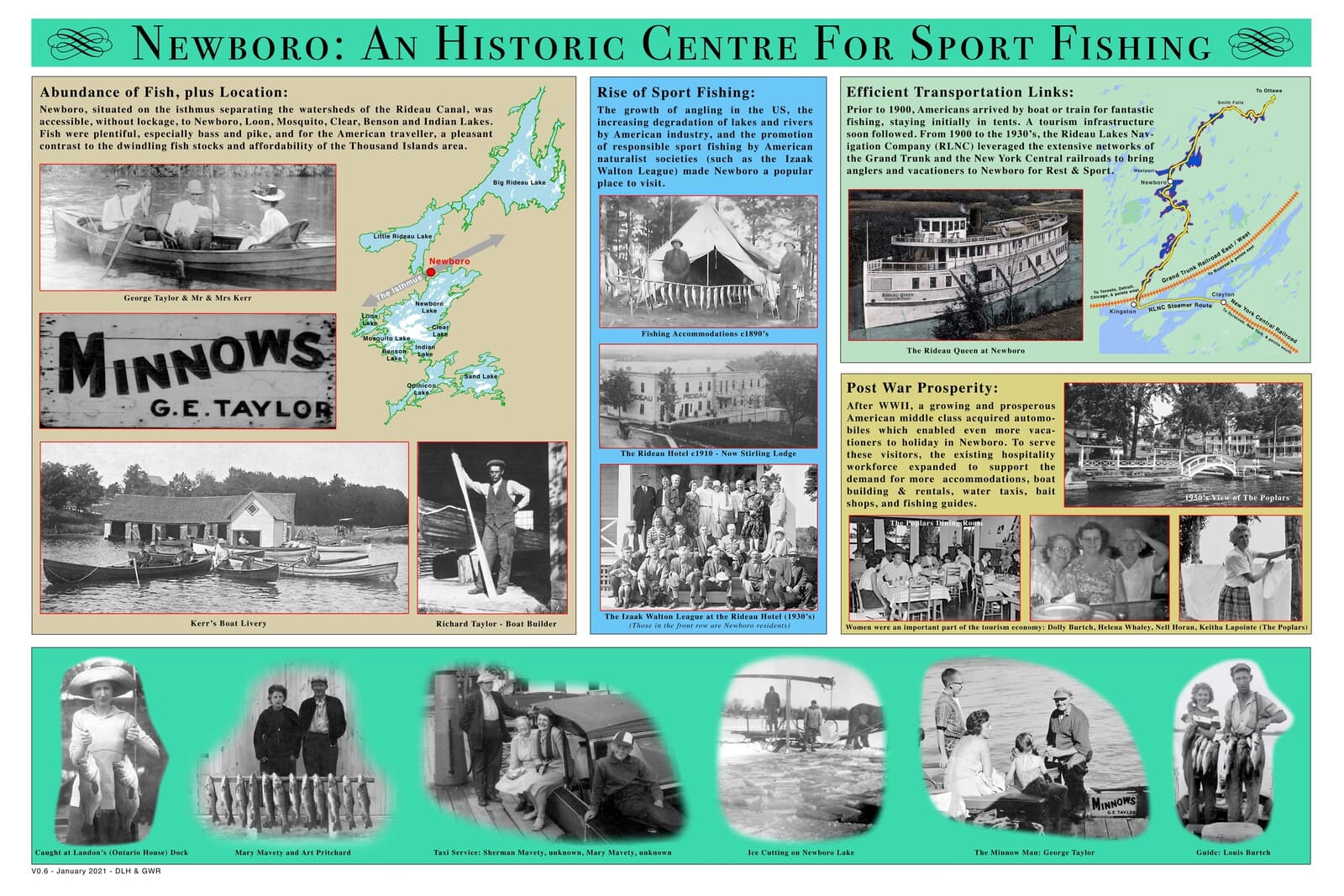 Newboro - Historic Centre for Sport-Fishing
Click on a plaque to enlarge