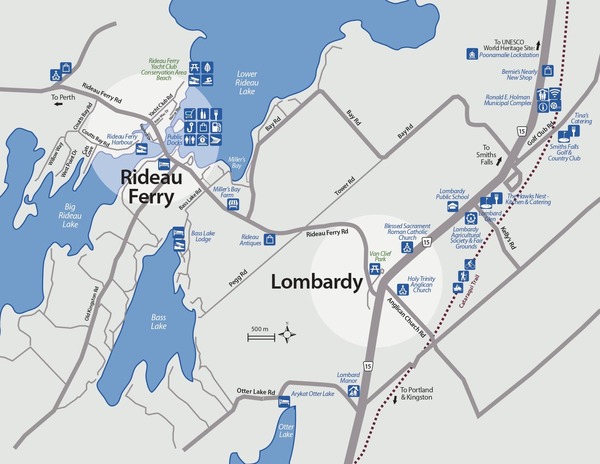 Download the Map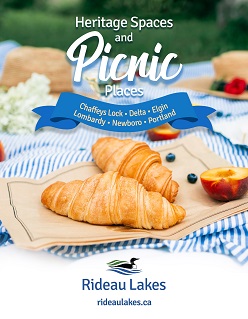 Rideau Ferry - Lombardy Picnic Guide
Click on the photo to begin the slideshow
The History of Rideau Ferry and Lombardy
Rideau Ferry
Originally called Oliver's Ferry, the community was named after the legendary John Oliver, an early settler in South Elmsley Township. He exacted tolls from ferry travellers and their conveyances wishing to cross this narrow point on Rideau Lake, providing a more direct overland route between Brockville or Kingston, and Perth. In 1874, a bridge was built to provide a more dependable traverse from South Burgess to North Elmsley, from Leeds to Lanark. A swing bridge component allowed boat and barge traffic to pass on the Rideau Canal. By the 1890s, the function of the Rideau Canal was shifting from commerce to recreation. Rideau Ferry benefited with the construction of summer homes and cottages that dotted the south shore of what became known as the Lower Rideau Lake, to the east of the bridge. Many of these residences remain with the same families now, a century later. A cruise along the south shore, westward from Rideau Ferry is a venture into the past.
Lombardy
Lombardy, the community at the intersection of the Brockville – Perth Road and the Kingston to Perth Road is recorded under several names through its history, including Landon's Corners, Landon's Mills, and South Elmsley. But the name that persevered was that of a French soldier, Francis Lombarde who settled in the vicinity in the 1820s. A series of mills drew power from Otter Creek, and shops, smiths, taverns (for Saturday evening) and churches (for Sunday morning) were established. Charles Lombard opened the first Hotel.
Like much of the area, Lombardy saw an influx of Loyalist settlers in the first part of the 19th Century. Loyalist land grants included lots given to Peggy Shippen (Arnold), the second wife of Benedict Arnold, and her children. Property granted to the family included the area south of Rideau Lake including the property of the current Lombard Glen Golf Club as well as other lots near Otter Creek, east and west of Kellys Road. Other land grants to the Arnold family included lots along the south shore of lower Rideau Lake. The family did not settle in the area.
For many years, Lombardy served as the seat for the municipal council of South Burgess. Its churches still serve as social centres for the community, namely the Roman Catholic, the former United Church and the Anglican Church.
Several kilometres northwest of Lombardy is Poonamalie, the first lockstation west of Smiths Falls on the Rideau Canal. The lock was named after Poonamallee, the anglicized name of Poonthamalli near Chennai (Madras) in India. The area's aromatic cedars reminded a British Royal Engineers army officer of Poonamallee in India where he had previously served. The dam at Poonamalie controls the water level in Lower and Big Rideau lakes. The beautiful lockmaster's house here is one of three original structures still in use on the Rideau Canal today.