Photo: Patterson Bus Line Elgin c. 1955
School houses were a place for children to learn and play. More than 70 one-room and two-room elementary schools (including union schools) were speckled throughout Rideau Lakes in the former townships of Bastard and South Burgess, North Crosby, South Crosby and South Elmsley. The Common School Act for Upper Canada in 1850 created school sections as the smallest unit for the administration of rural public schools. A School Section (S.S.) was from 3 to 5 miles square (~5 to 8 km) and was administered by a board of three elected trustees. The trustees were responsible for hiring teachers, administering finances and the management of school property and equipment. Schools that were on the boundary between more than one School Section were known as Union School Section (U.S.S.). There were also Separate School Section (S.S.S.) or Roman Catholic School Section (R.C.S.S.) schools. (Source: http://www.oneroomschoolhouses.ca/index-of-schools.html)
If you enjoy history, there is an opportunity to meet the members and see a display by the Leeds County Heritage Network at the International Plowing Match in Kemptville, September 20 to 24, 2022. For more information, visit https://www.rideaulakes.ca/live/public-information/calendar/community-calendar/35325/heritage-displays-at-the-ipm
Freeland School 1912
The Freeland School located in the former township of Bastard and South Burgess, Ontario was built in 1857. The following photograph, dated 1912, was taken on the occasion of Mr. Chipman's return from British Columbia after an absence of 40 years. Mr. Chipman had taught at this school. Learn more about the Historic Settlement of Freeland
Left to right: Ezra Chipman (standing), Myrtle Waffle, Lucile Dowsett, Mrs. Annie Dowsett.
Philipsville Schools 1910
Photograph of the Little Red Schoolhouse in Phillipsville, Ontario c.1910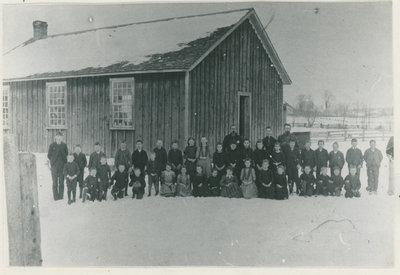 Photo: Diane Haskins "My Own Four Walls" originally in Philipsville Lady Tweedsmuir Book
Photograph of the Philipsville school in 1910.
The earlier wooden structure, pictured above, was replaced by the brick building in the following photo.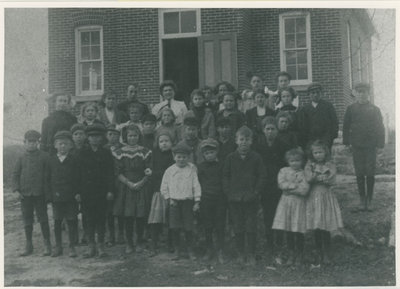 Photo: Diane Haskins "My Own Four Walls" originally loaned by Clela Haskin
Front row: H. Knapp, Clifford McCollum, ? Sawyer, Essie McCollum, Pearl Aimer
Second row: Easton Davison, ? Knapp, ? Burt, ?, Leonard Burt, Ellen Greenham, Jack Greenham, Lottie Carr, Clarence Wood, George Aimer, B. Sawyer, Ben Shire
Third row: Ella Dwyer, Blanche Carr, Aileen Topping, ? Topping, Hester Tackaberry, Blanche Wood, Helen Haskin, Lena Haskin, Eleda Greenham, Allan Haskin, Steve Pier
Fourth row: Merton Denney, teacher Kate Jordon, Morley Willows, Hallie Shire, Madalene Burt, Francis Burt.
The Red Brick School
The Red Brick School in Elgin is a premier example of a late 19th century campaign by Egerton Ryerson to improve public education through the building of more stimulating environments for learning. The following photo depicts a class from the Red Brick School in Elgin c.1920.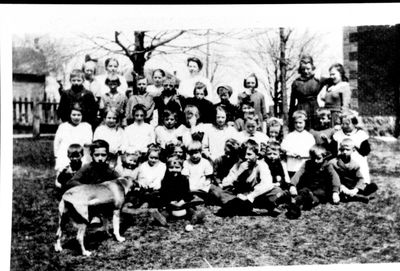 Photo: Rideau Lakes Public Library
The following images show some of the fine architectural features of the Red Brick School.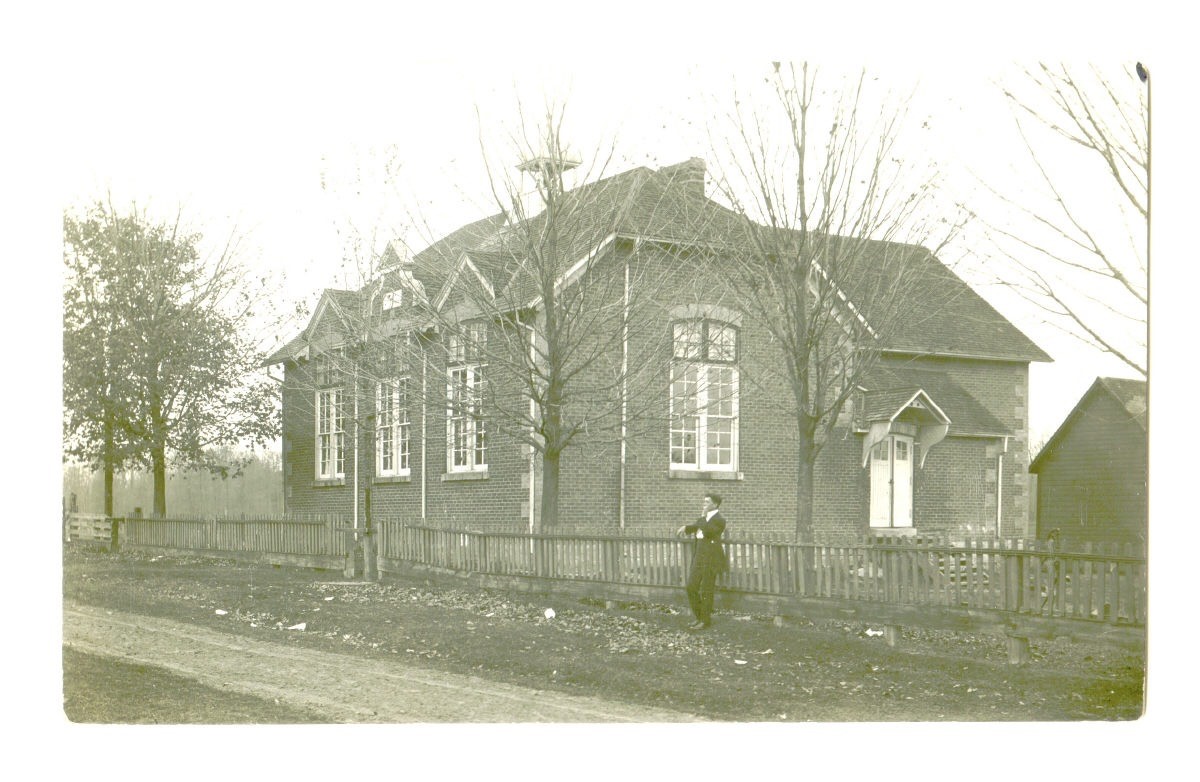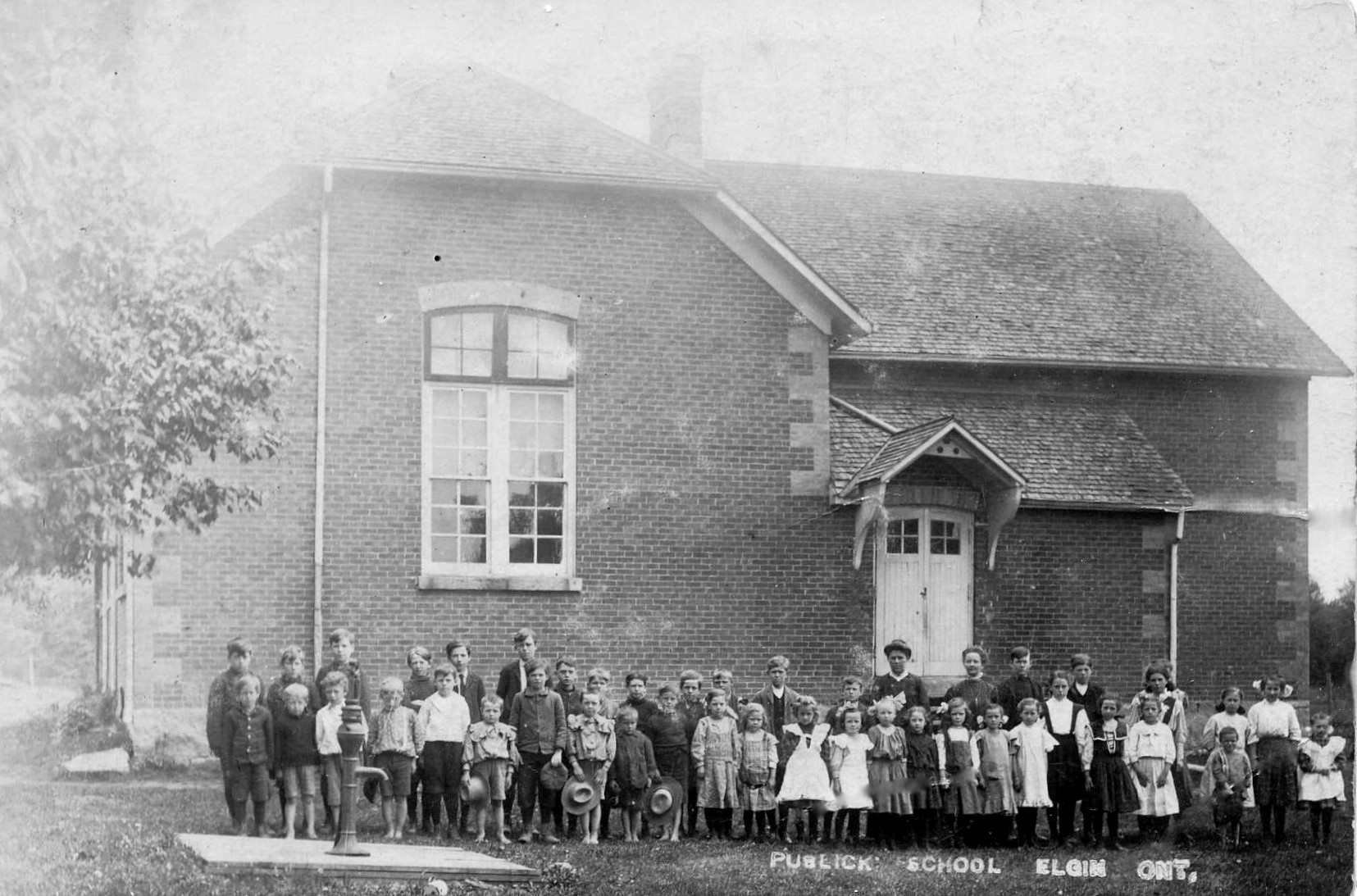 Elgin Continuation School 1959
The Elgin Continuation School was started in the 1920s and operated as a continuation school until 1960 when Rideau District High School opened; after that date it housed South Crosby students until the present South Crosby Public School opened in 1963.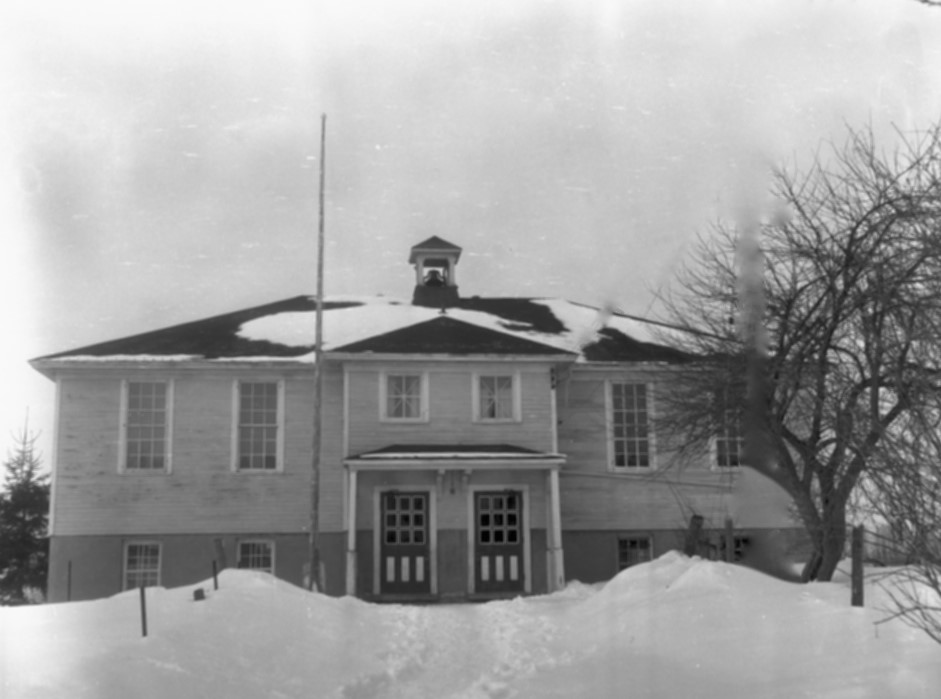 Source: Our Ontario - Lakes and Islands -Times Past https://images.ourontario.ca/lakesandislands/search