Photo: Delta Harvest Festival, provided by the Delta Agricultural Society
The nights are getting cooler and that can only mean one thing… harvest season is coming! Celebrate the harvest in Rideau Lakes with these exciting seasonal events.
Fresh apples and cider for the season. Located at 3357 Hwy 15, near Elgin. Watch Facebook for updates. https://www.facebook.com/MoonValleyFarms/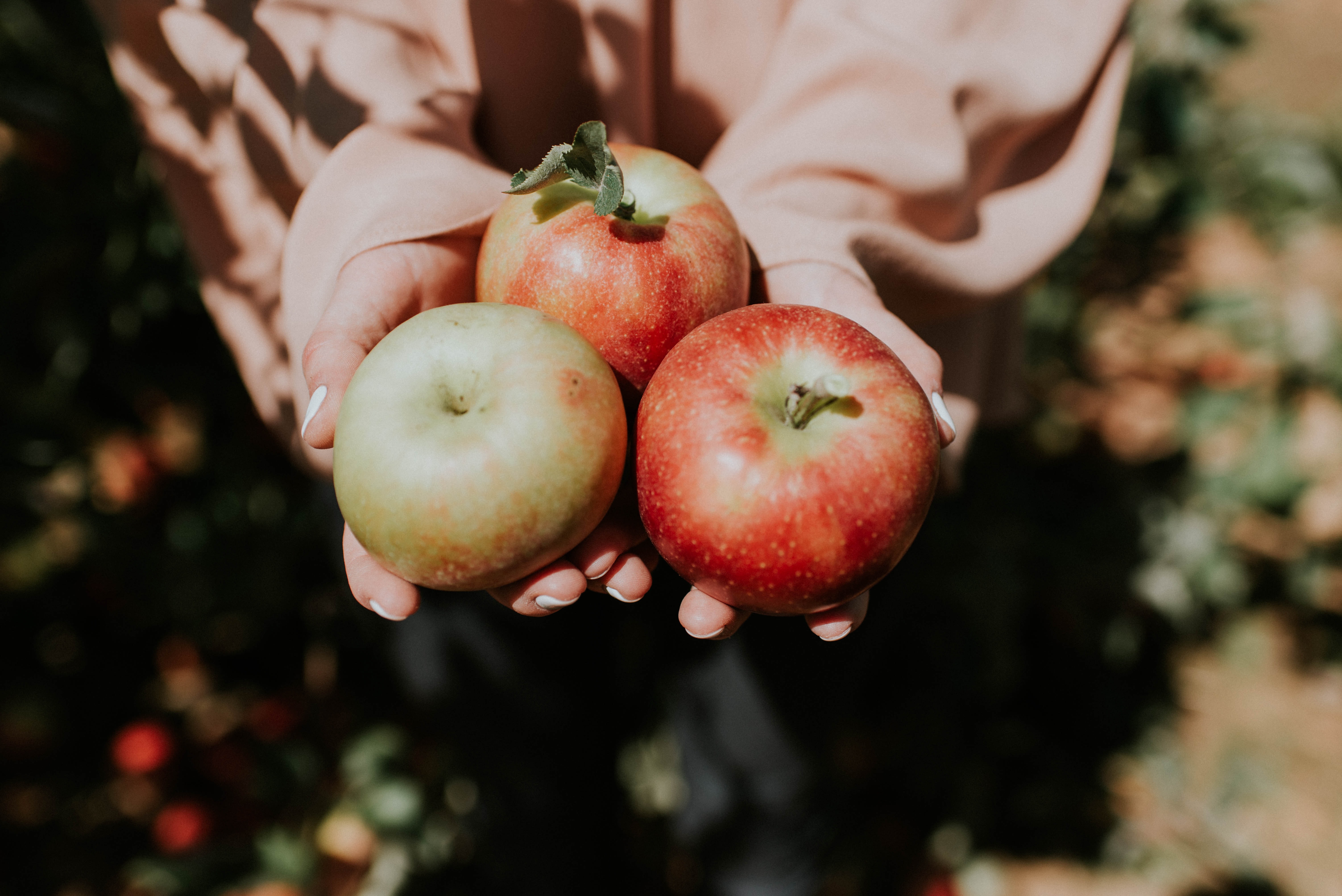 The Lombardy Poultry & Critter Meet is an annual event in September where you can purchase poultry, waterfowl, turkeys and more. There are also craft vendors and country goods. Learn more at the following Facebook page link: https://www.facebook.com/groups/945303898983289
Barn Dance & BBQ Dinner, Silent & Live Auction AND Live Entertainment by DoubleBack at the Lombardy Agricultural Barn. Enjoy a Hip of Beef dinner with homemade desserts. There is a shuttle from Nearby Smiths Falls and Free Dry Camping is available. Learn more at the following link: https://www.lombardyfair.ca/whats-happening.html
Lombardy Agricultural Society's 2nd Annual LAS Fall Classic Demo at the Lombardy Fair Grounds. Smash-it-up fun for the whole family!
Help cure SMA by attending the Little Rock Farm Dinner & Dance Fundraiser at the Lombardy Agricultural Hall. Tickets are $35. Learn more at the following Facebook page link:
https://facebook.com/events/s/cure-sma-little-rock-farm-fund/1436923440158081/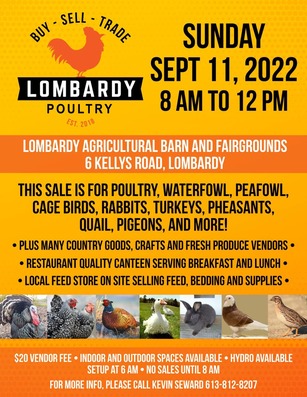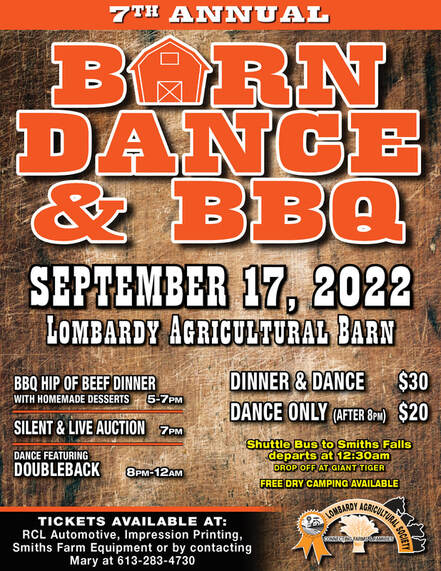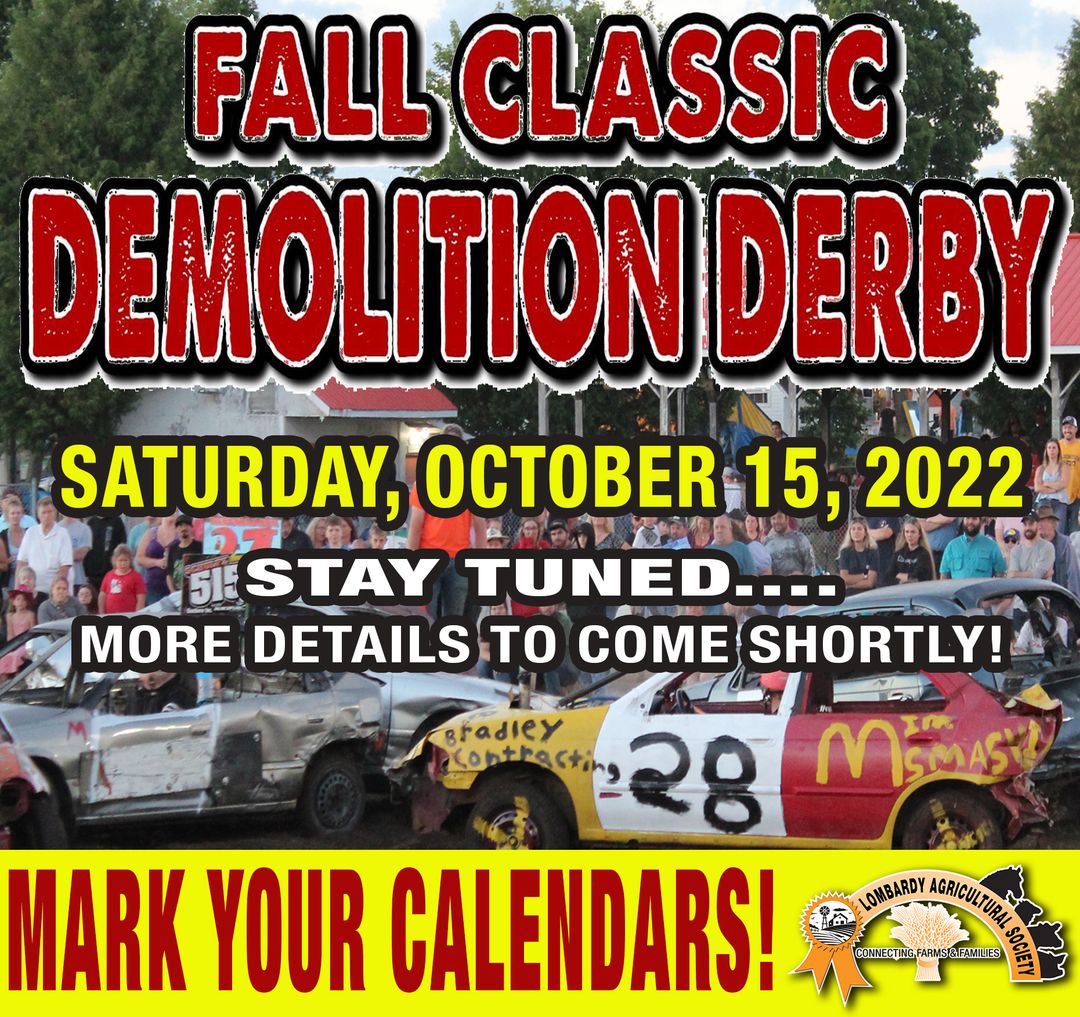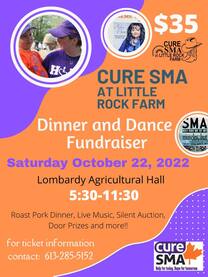 There will be lots of fun and activities during Delta's annual Harvest Festival, held on the last Saturday in Septenber each year in beautiful Delta Ontario. Reasons to get excited include: ​
The Old Stone Mill will be open to the public. This National Histiric Site is worth the drive to Delta.
New! What was the driveshed next door to the mill has been converted into a Blacksmith Shop. Celebrate the opening and view the new exhibits.
New! A Hammering-In event will be held in the Blacksmith Shop, inviting Blacksmiths together and demonstrate their craft.
The Ginormous Book Sale will take place at Delta's Old Town Hall - canteen / public washrooms are available
A Make-and-Take kits for kids
A Harvest Decorating Contest
Craft vendors at the Delta Fair Grounds
A Car Show at the Fair Grounds
Jeff Code & Silver Wings concert at the Fair Grounds
A yard sale at St. Pauls Community Centre on King Street
Viist the Delta Fire Hall Museum next door the Public Library
Curbside Farmer's Market & Vendors
Music at the Russell Gazebo
While in Delta, visit the new Bastard Coffee House and Zipper Thrift Co. Family Boutique loacted in the Jubilee Block. Learn more at the following link: https://www.deltaontario.com/festivals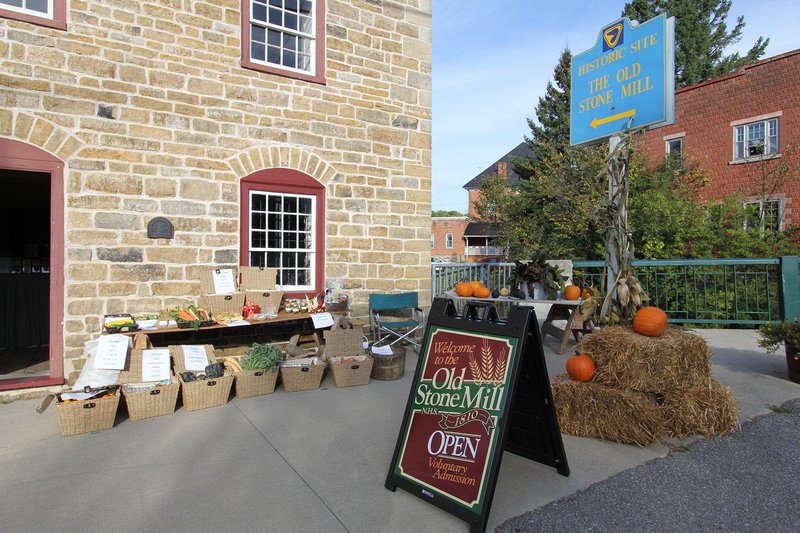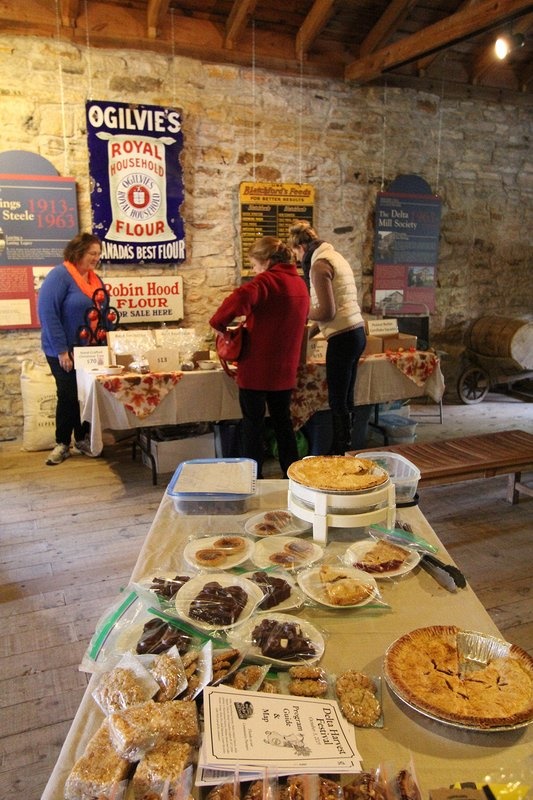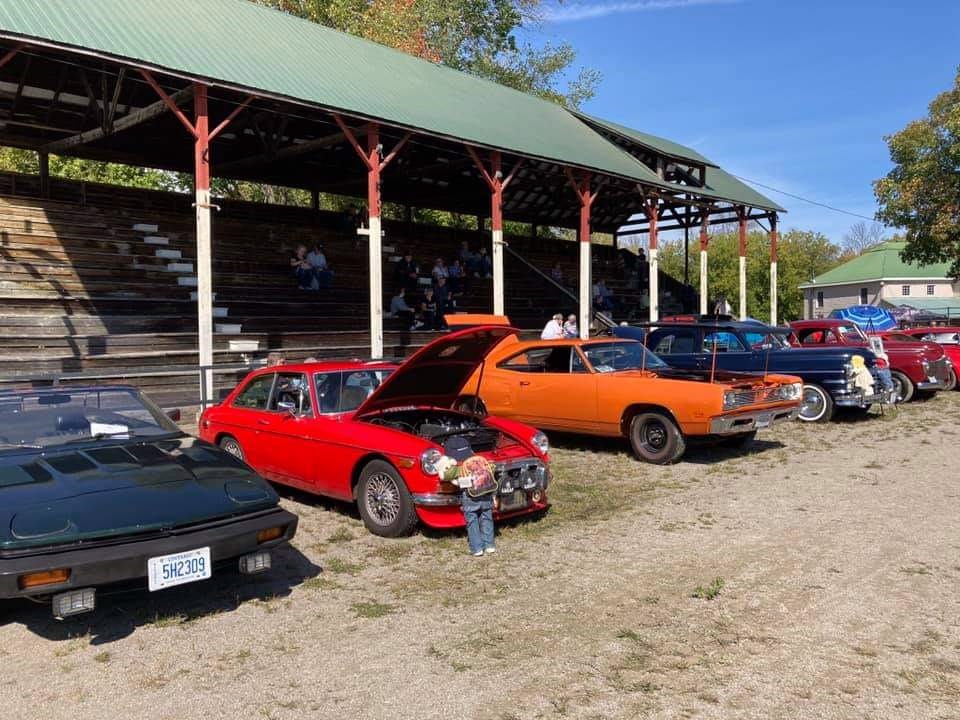 Festival of Small Halls
The Ontario Festival of Small Halls is about sharing a love of music in a beloved place. Brought to you by the Team Behind Bluesfest, the Festival of Small Halls brings exceptional Canadian musicians to small venues across Eastern Ontario. The Old Town Hall in Delta will again open its doors for an unforgettable night of music in 2022!
Friday, October 7 | Charlie A'Court | Chaffey's Lock Community Hall, Elgin, ON
Friday, October 14 | Irish Mythen & Willie Stratton | Elgin United Church, Elgin, ON
Saturday, October 15 | The Barra MacNeils | Delta Old Town Hall, Delta, ON
Sunday, October 23 | Angelique Francis Quartet | Morton Hall, Lyndhurst, ON
See the full schedule and buy tickets at the following link: https://ontariosmallhalls.com/festival-info/2022-fall-schedule/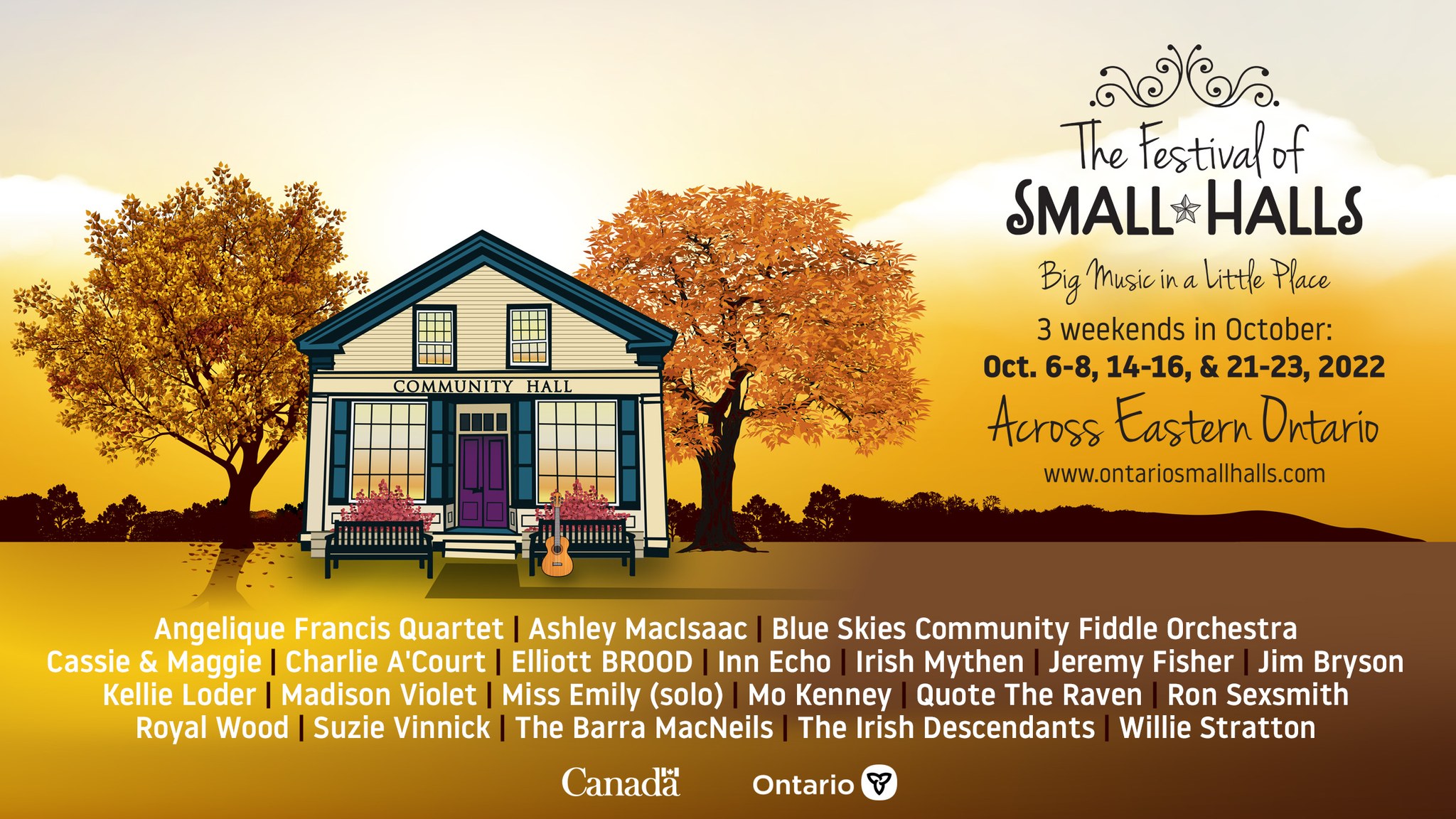 Festival of Small Halls Facebook Page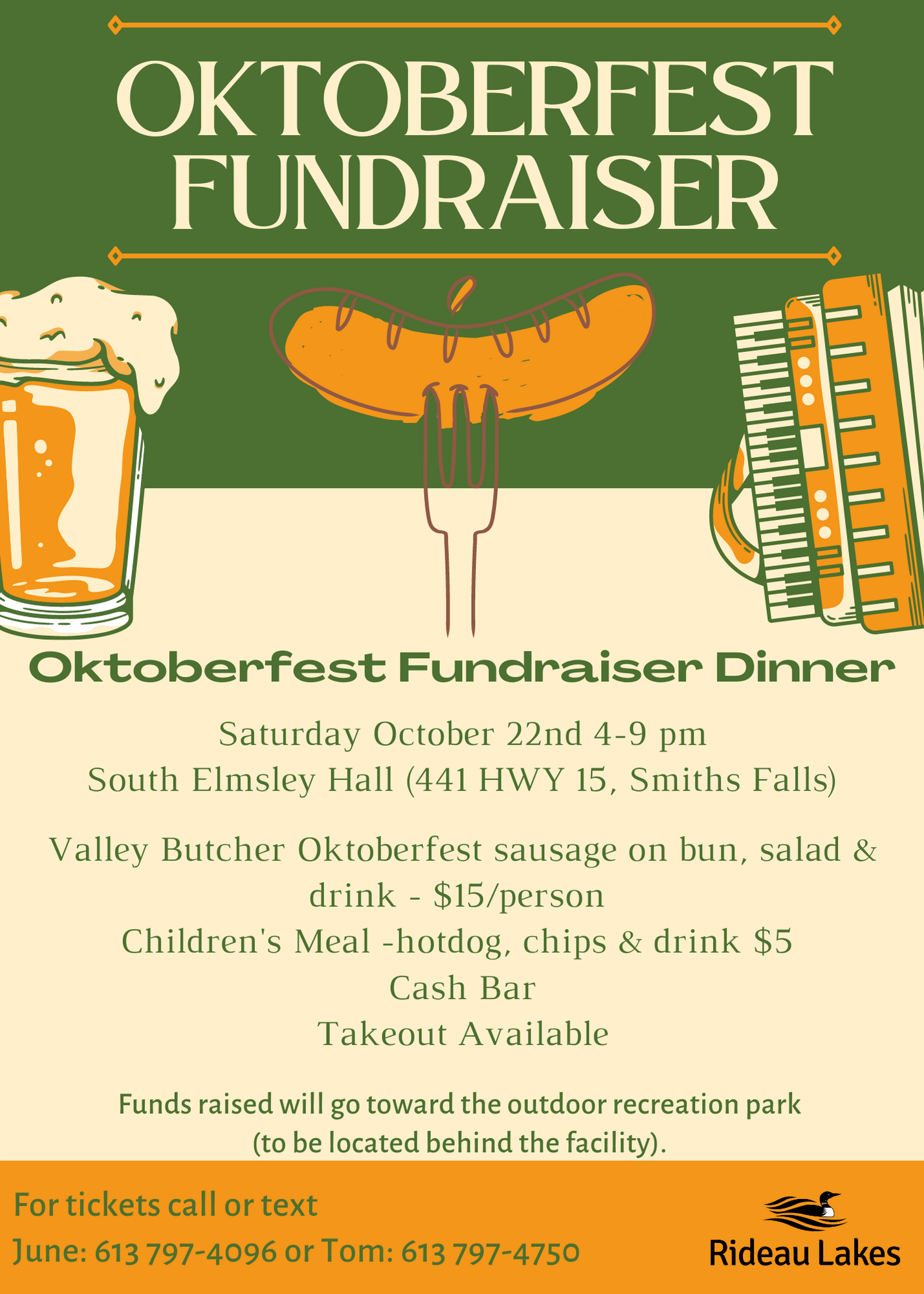 Saturday October 22nd
4:00 p.m. to 9:00 p.m.
South Elmsley Hall, 441 HWY 15, Smiths Falls
Valley Butcher Oktoberfest sausage on bun, salad & drink - $15/person
Children's Meal - hotdog, chips & drink - $5
Cash Bar
Takeout Available
For tickets call or text June:
613 797-4096 or Tom: 613 797-4750
This new outdoor music festival is poised to attract 2,000 people this weekend as a fundraiser for the programs and operations of No. 9 Gardens.
The festival runs from 11 a.m. until 1 a.m. at 1516 Summers Road, featuring nine performances by young, up and coming artists from across Canada. A variety of local food, drink and small sustainable businesses are participating as vendors.
The Eco Art Festival, taking place at the same site, displays the incredible works of eight visual artists, who have constructed installations along a trail through the 40 acre property.
No.9 Gardens, launched in 2018, in partnership with Dunin-Deshpande Queen's Innovation Centre, is a hands-on teaching facility created to empower youth to lead a revolution in
building resilient communities. Ongoing programming focusses on growing one's own food, off the grid living, and immersing oneself in nature. Source: Review Mirror September 8, 2022.