The winter months are all about taking time to rejuvenate, refresh and prepare for the year ahead. Welcome wellness in Rideau Lakes! Read these creative ways to fuel mind, body and spirit in Rideau Lakes.
Want more calm and peace in your life? Rideau Lakes Yoga & Mindful Practices offers breath-based yoga classes with a focus on wellbeing, accented by flexibility, strength and balance. From mindful movement to reduce stress, to gentle classes, to even individual private sessions to boost your personal goals, Rideau Lakes Yoga & Mindful Practices brings stability and light.
Moral of the story: you don't have to be stiff and sore. Let Rideau Lakes Chiropractic in Elgin tune up your back and body to help alleviate that back pain, neck pain, and even help recover from sports injuries and headaches. Discover what it's like to get moving again!

This peaceful yoga studio in Delta hosts classes for yoga, martial arts, and dance. Whether it's meditation, sound baths, kids programming, or yoga that quite simply reaches your soul, you'll leave Fern and Fox Wellness feeling soothed and sated. Drop by for your weekly dose of zen!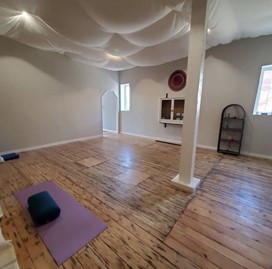 @fernandfoxwellenss (Instagram)
Massage Therapy
Shake off the winter aches and pains while refocusing on wellness with a massage from the talented massage therapists in Rideau Lakes. Availability may vary, as some are often fully booked, but the professionals at Local Massage Therapy in Elgin, Rideau Lakes Massage Therapy (Kim Ethier Massage and Sports Injury Therapy) near Portland, Ethereal Massage Therapy in Delta, and more are providing transformative hands-on health services. New! Sharon's Health & Wellness Mobile Massage Therapy is opening in the Crosby area February 2023 ().
Equicare+ Therapies delivers performance improvement, injury prevention and recovery – using integrative whole horse therapies. The focus here is on offering wellness therapies for horses to optimize their health. Whether for everyday life, or as preparation/post performance for dressage, eventing, driving or racing, the range of therapeutic tools and professional services has been proven a winning combination.

There's no better time to focus on wellness than right now in Rideau Lakes!