Get your keen eyes ready and your bargain sniffer toned: treasure hunting season is upon us! Seeking out hidden gems is a classic summer vacation activity and Rideau Lakes is the perfect place for it – with bargain hunting spots galore. Discover the top spots for picking in Rideau Lakes!
Known for everything from antique furniture to vintage comics, Aunt Molly's Antiques is quickly becoming known as a must-stop on the local bargain hunting trail. Explore old books, antique paintings, dishes, glassware, cast iron, table lamps, and oil lamps at this shop in a heritage red brick building in Crosby next door to the Castle Rideau Lakes Home Building Centre, at 7719-B County Road 42 (at the corner of Highway 15 and County Road 42).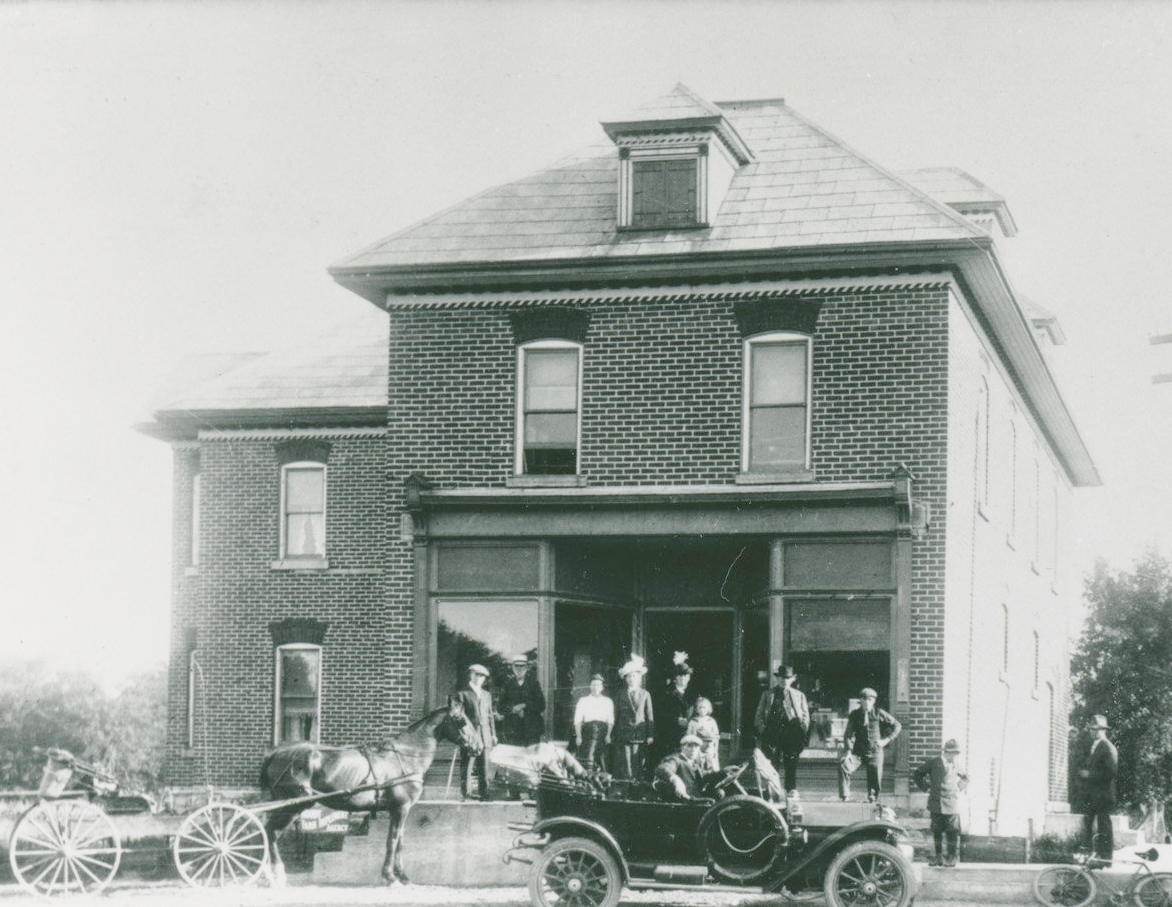 Start your engines and head down to the Lombardy Fairgrounds on June 24 and 25, 2023 for a flea market and vintage car show and sale. This highly-anticipated event, put on by the Rideau Lakes Antique & Classic Car Club of Canada, always draws a crowd and sees a wide variety of beautiful and exciting antique and collector cars on display.
What's old is new again… or nearly new! Bernie's boasts over 5,600 square feet of antiques, furniture, collectables and home decor. With stock that is constantly rotating and new items coming in every week, Bernie's' Nearly New Shoppe is active on Facebook so you can peek at the latest finds before heading out on your antiquing adventure. Located at 381 Highway 15 south of Smiths Falls.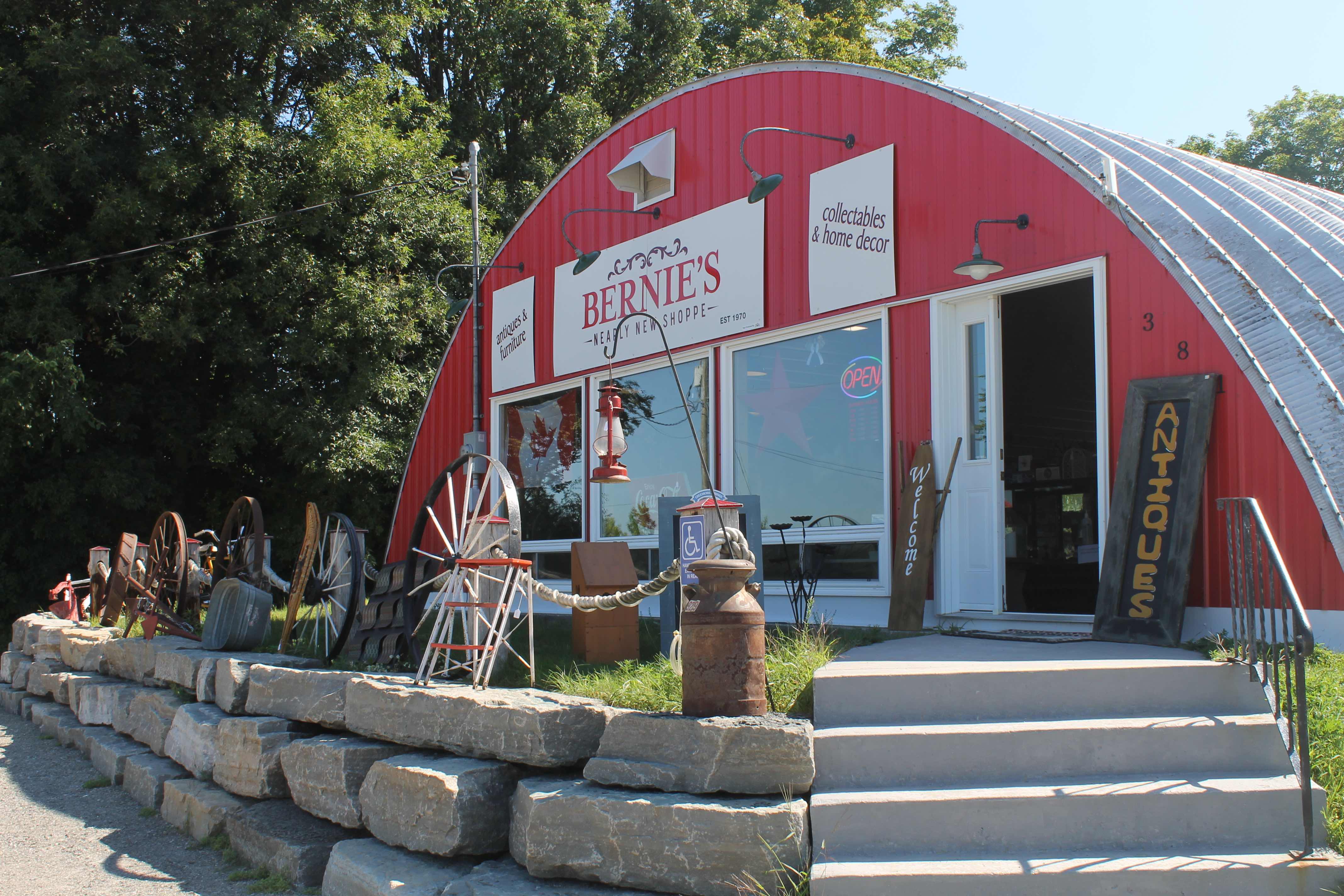 Where you can dig up not-so-buried treasure! Enjoy browsing this charming vintage shop offering antique furniture and hidden gems.
The historic Crosby Flea Market has been a Saturday morning tradition in Rideau Lakes for generations! This local market sees small businesses and farmers sell their Canadian products. Open on Saturdays from 8 a.m. to 2 p.m., May long weekend until Thanksgiving in October each year. Located at the corner of Highway 15 and County Road 42.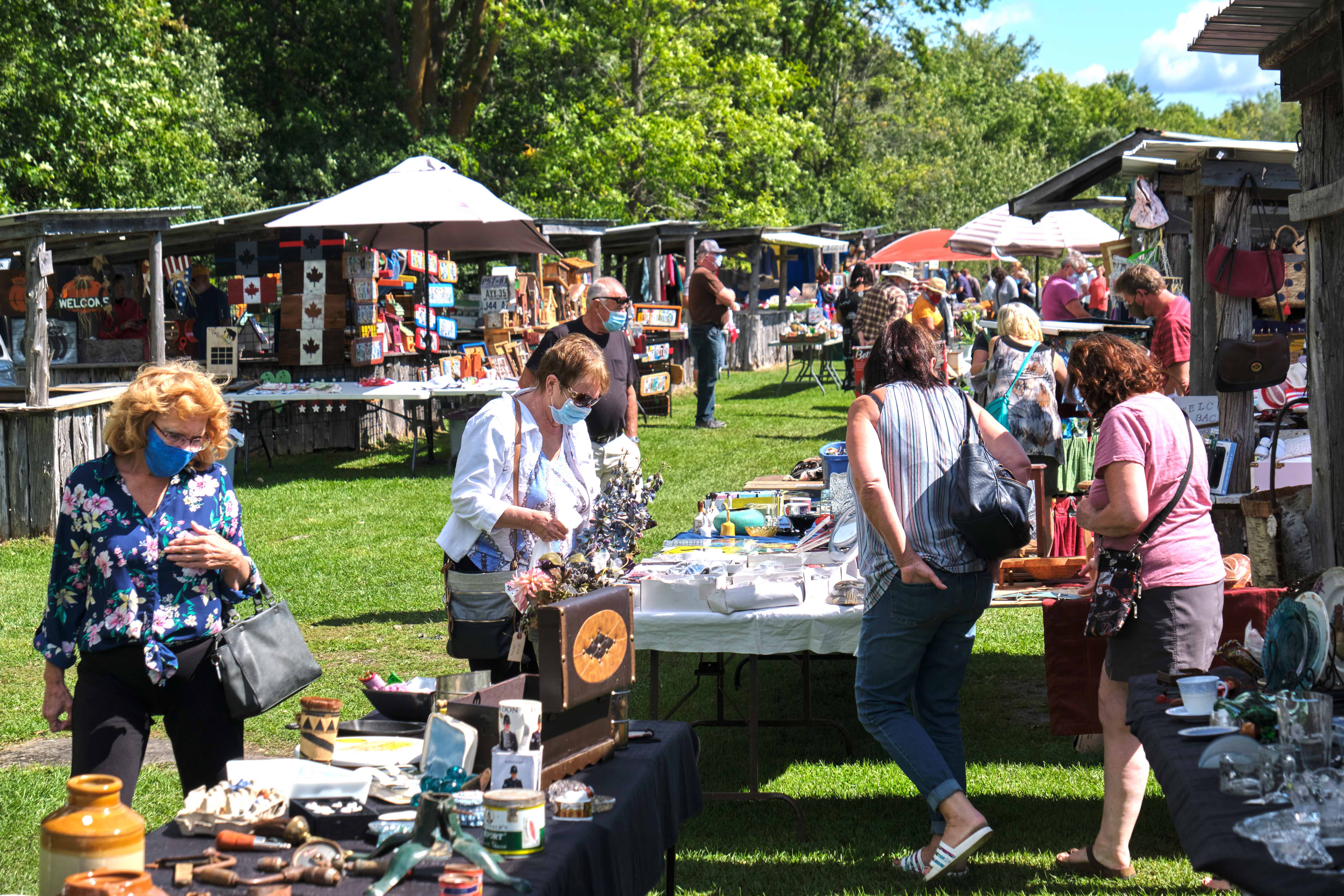 Crosby Flea Market Photo: Robyn O'Neill
Every year in July, Elgin celebrates summer with a weekend of festivities. One of the annual highlights is a community-wide yard sale, where countless residents and vendors set up sales throughout the entire village and beyond in true Ontario yard sale fashion. Be there early! This event is on the radar of pickers and never disappoints. This year watch for the Elgin Days Yard Sales on Saturday, July 6 with some carrying over to Sunday, July 7.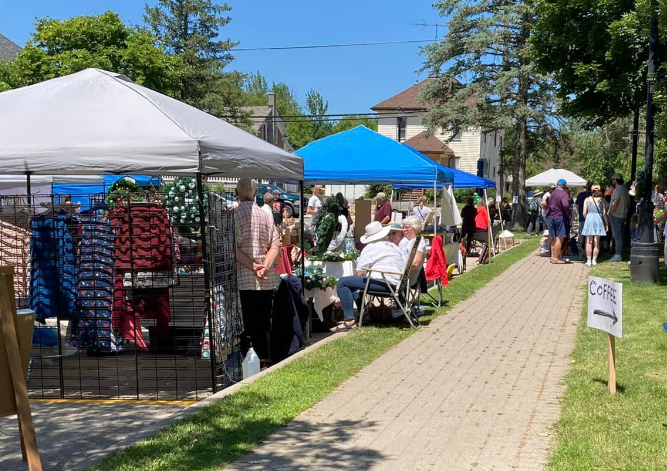 Photo: Elgin Days Facebook Page
Home of the rare and unusual, Gallery15 is the place if you are looking for some Harley Davidson items or fun collectables. Look here for online auctions, too!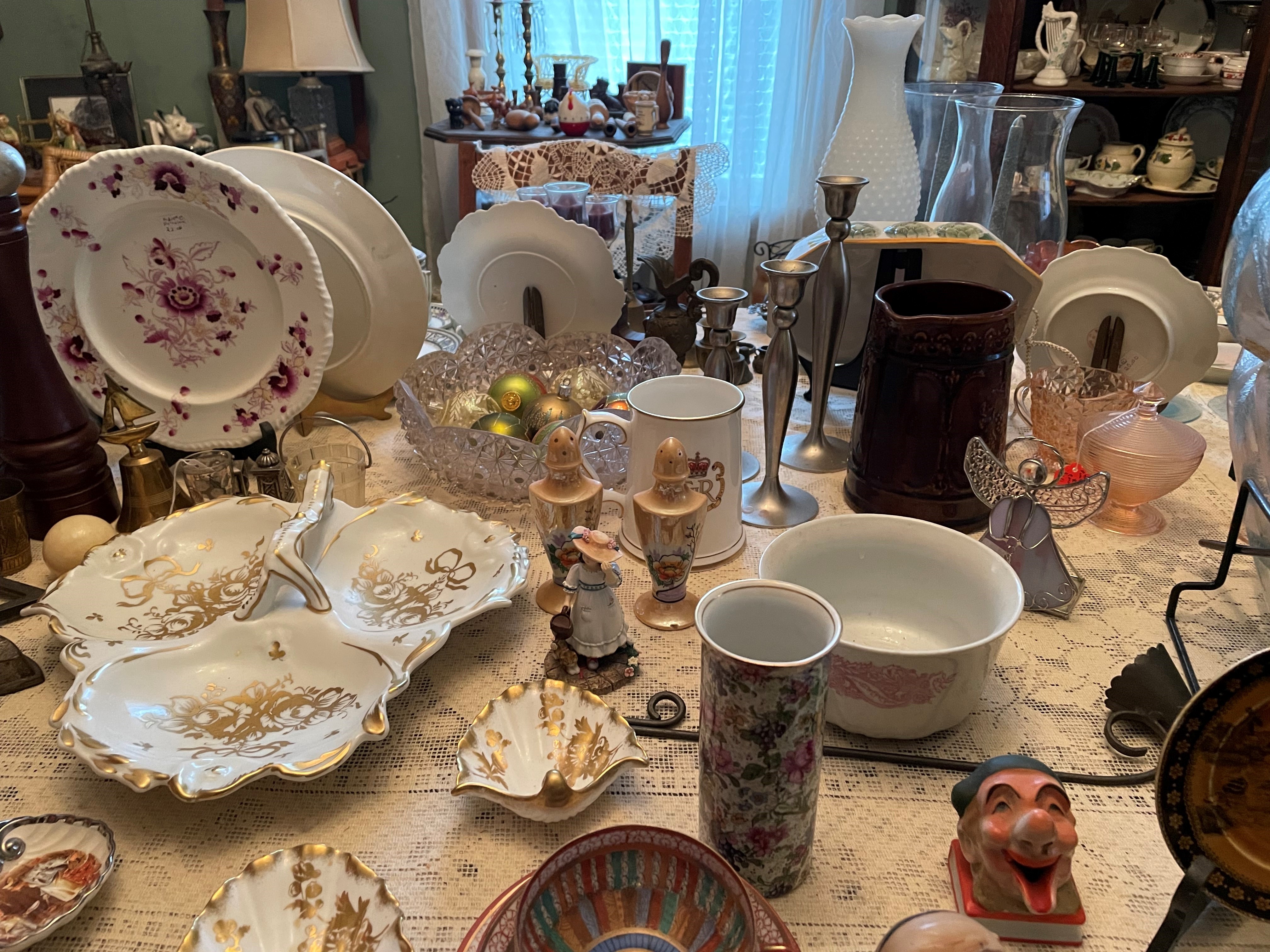 Old World Country Antiques
Furniture and collectibles await at Old World Country Antiques just outside of Newboro at 8525 Hwy 42. This 1,000 square foot shop is fun to poke through, with Canadiana artwork, decoys, paddles, rare books and cottage decor. Owner Levi can be reached by telephone at 613-272-2024. Open Mondays, Wednesdays, Thursdays, Fridays and Saturdays from 10 a.m. to 5 p.m. Closed Tuesdays. Sundays by chance.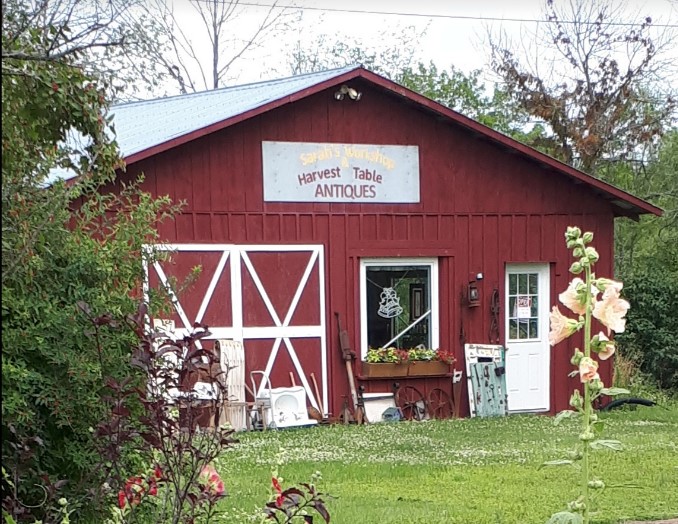 Rideau Antiques is an antique shopper's paradise! Roam the warehouse, barn, and almost endless inventory outside to find a unique Rideau Lakes souvenir to bring home with you. Featuring Canadian furniture, clocks, glass and china, woodenware, lamps, bottles, tools, books and hardware – and that's just inside! The outside yard at 104 Rideau Ferry Road, County Road 1 is also a trove of doors, stoves, tubs, sinks, license plates, farm implements and more. Open Monday to Saturday, 9 am. to 6 p.m. Treasures are piled high around every corner here – be sure to plan ample time to see it all.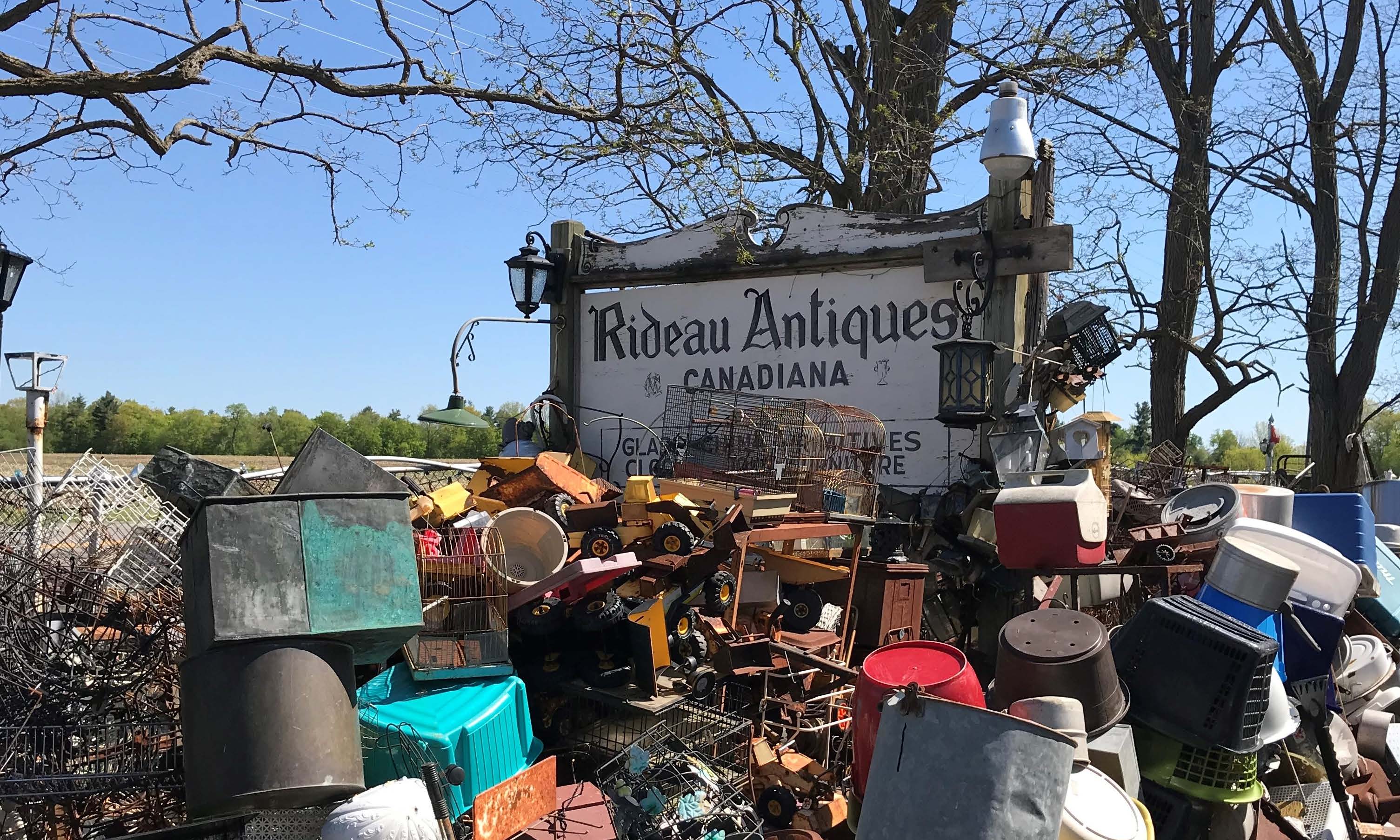 Settlement House Antiques and Collectables
Conveniently located at 240 Highway 15 (Lombard Street) near Smiths Falls, you will find furniture, art prints, signs, Royal Dalton figurines, fishing tackle, comics and supplies. This buy, sell and trade establishment will give you the true experience of hunting for treasure! The owners have been collectors for many years and recently completed an expansion to the 2,000 square foot shop in order to house more of their hidden gems. If you are looking for something specific, call Frank at 613-272-3342 or Bob at 613-223-1926. Open 7 days a week. Summer hours are 9 a.m. to 5 p.m.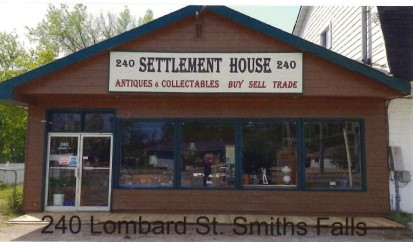 One person's trash is another person's treasure! In April and October each year, Rideau Lakes residents place their unwanted items at the end of their driveway, with a "FREE" sign, and turn their 'trash' into someone's 'treasure'. If you have used items that are of no use to you any longer, but are not quite ready for the landfill, this is the perfect time to get rid of them!
Create your own antiquing and vintage trail in Rideau Lakes and make a day of it! Discover the unexpected in Rideau Lakes.