Photo: Harlem Stonegate Bed & Breakfast
Delight in a charming tea room, book a cozy bed and breakfast and find a hidden gem while antiquing in Rideau Lakes! Make a weekend of it and take time to celebrate the special people in your life.
Tea Rooms
These are not your traditional tea rooms! Grab your besties, Mom or local tea enthusiasts and indulge in a talk and tea session at these fun and beautiful tea rooms.
Treat yourself, Mom or bestie to a coffee or tea date in this eclectic and very Insta-worthy coffee house in the historic core of Delta. Try the delish brekkie sammies here, too! The Bastard Coffee House is also becoming known for its live music nights, welcoming artists from across the region. Sure to get your toes tapping.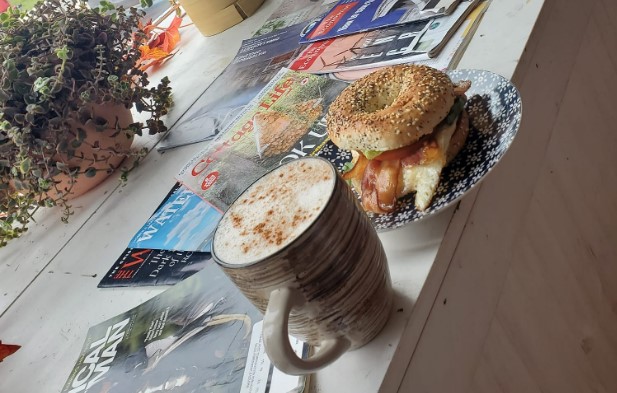 Photo: Bastard Coffee House Facebook Page
Overlooking Big Rideau Lake in Portland, this iconic location offers a breathtaking view. Featuring a creative bar menu, as well as cold craft beer, The Galley is a must stop along the Rideau to experience delicious food and beautiful sunsets.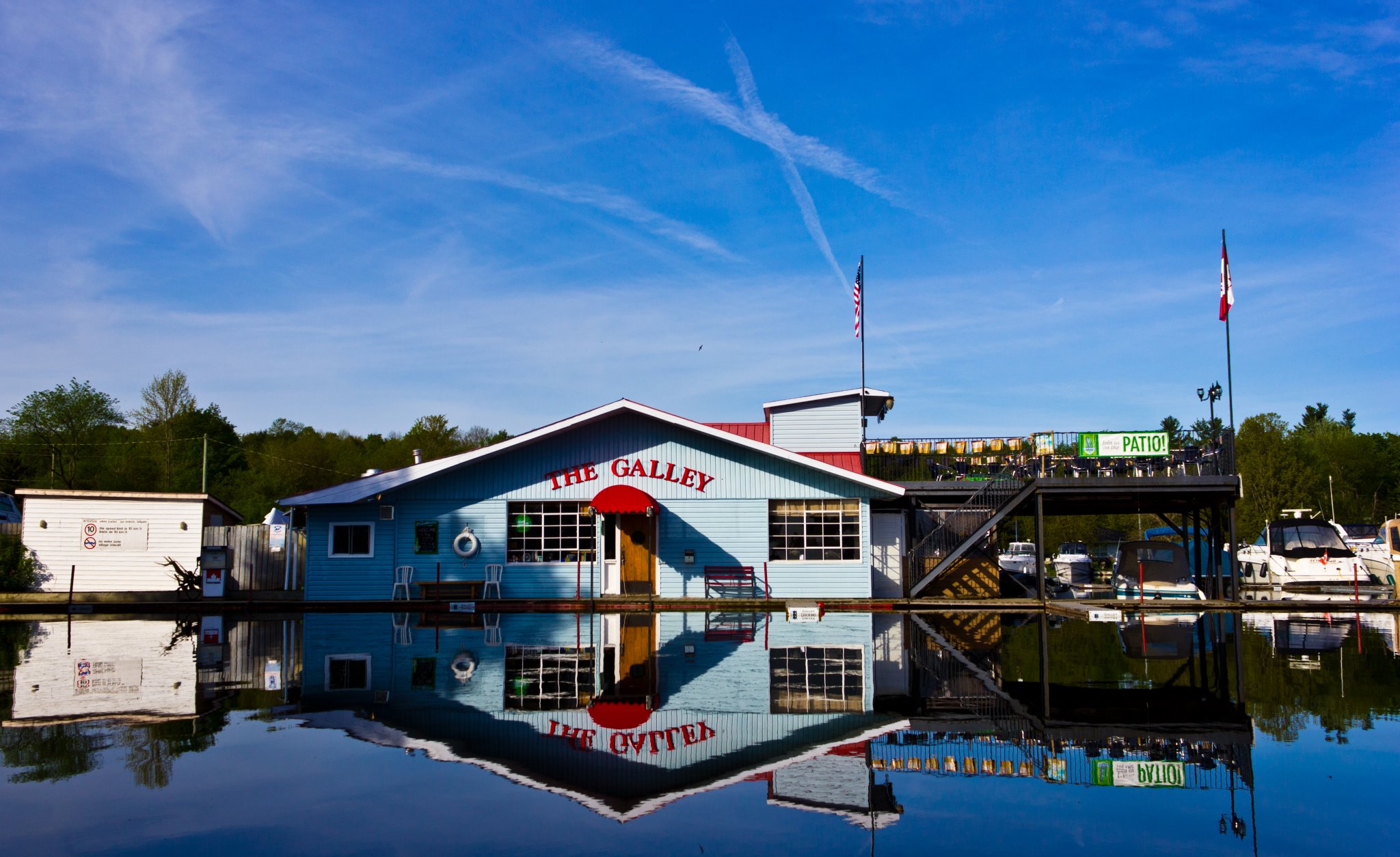 Photo: The Galley Facebook Page
The historic Opinicon at Chaffeys Lock offers specialty menus for holidays, as well as an ice cream shop and cafe. Book in for a special Mother's Day meal and then head over to delight in homemade ice cream in the shop - with new specialty flavours each season!
Organic loose-leaf genuine tea, real espresso, cappuccino and latte make this unique brunch spot a special treat. Open Tuesday to Sunday between 8 a.m. and 3:30 p.m.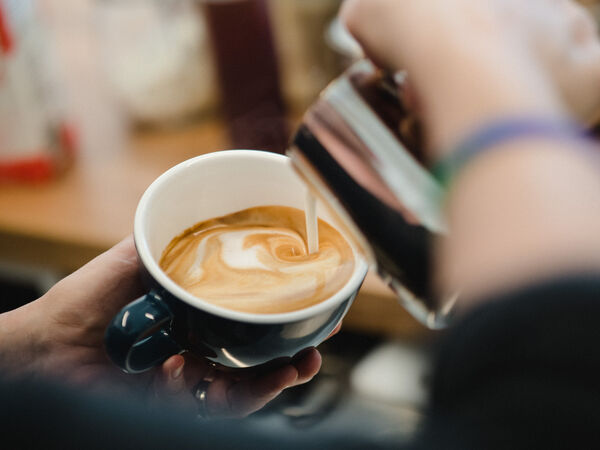 Photo: Recess Cafe Cappucino by Tim Forbes | RTO9
Overlooking Westport Sand Lake, this is the place for unforgettable views and fantastic wine tasting experiences, as well as wood-fired pizza or luscious steaks in the outdoor restaurant. Make an impression!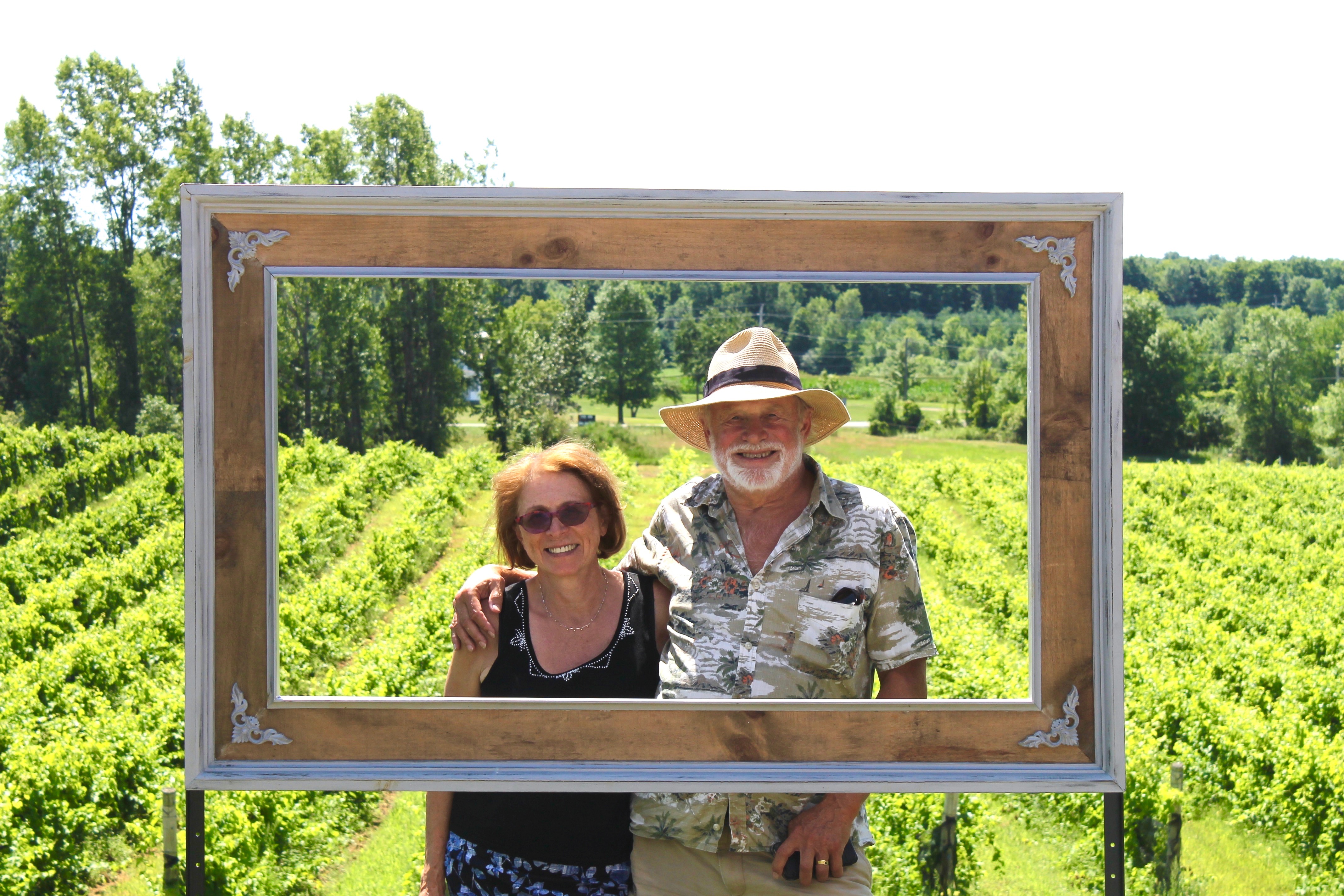 Photo: Scheuermann Vineyard & Winery by TD Graham & Associates
Experience this intriguing historic setting to carry on a tradition in the picturesque Village of Newboro. Open seven days a week from 10 a.m. to 5 p.m.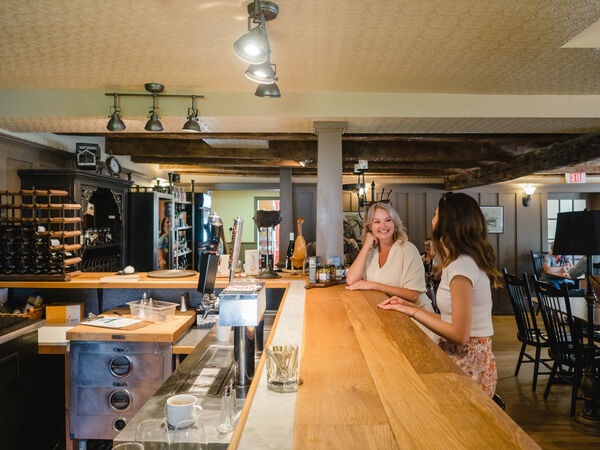 Photo: Stagecoach Inn Restaurant by Tim Forbes | RTO9
Enjoy an ice cream on the streetside patio or inside this cheery bakery in Forfar. Look here for savoury breads, sweet treats – and of course Forfar Dairy cheese and curd. Open seven days a week.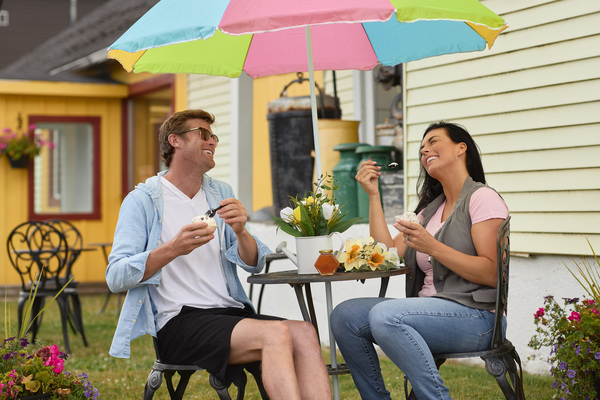 Photo: Sunflower Bake Shop by Matthew Liteplo
Inns

These one-of-a-kind accommodations will have you celebrating the special people in your life!
On beautiful Newboro Lake, close to the shops and restaurants in the historic Village of Newboro.
Photo: Grass Point Lodge Bed & Breakfast by Peter Frey
The perfect place to unwind! Harlem Stonegate is a 1860 beloved stone farmhouse on 50 acres of field, wetland and forest, offering guests the chance to relax and unwind with suites appointed in farmhouse chic style. The food is delicious here, too, so be sure to indulge!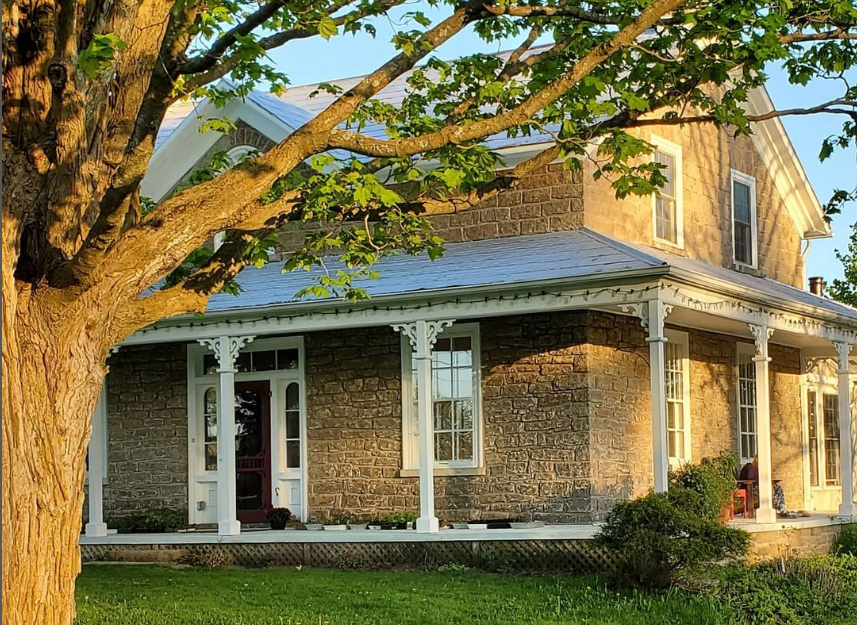 Photo: Harlem Stonegate Facebook Page
Hotel Kenney Rideau at Jones Falls has a long history as a favourite boating stop and even welcoming famous guests. Aside from some revamped lodging, look for a full dining experience with a front-row view of one of the Rideau Canal's most stunning series of locks in action. Then grab an ice cream cone or irresistible nut-free gourmet cookies and while away the afternoon strolling the locks.
This two-room bed and breakfast is perfect for those chasing the summer sun. Only a one minute walk from the beach in Portland.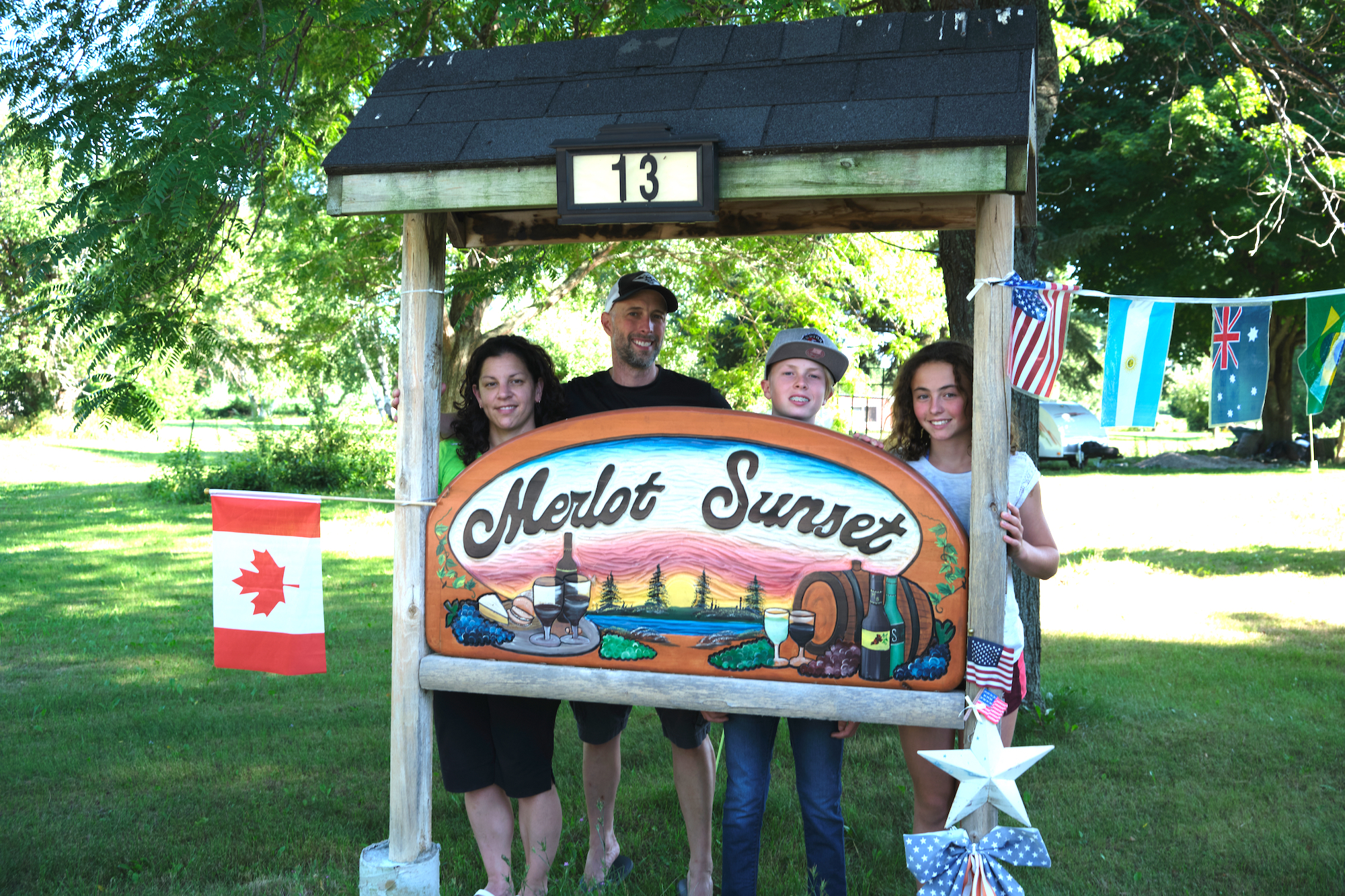 Photo: Merlot Sunset B & B Facebook Page
Stay in an 1800s classic home and experience village life in Newboro! Loaded with character, Newboro House has three suites available to rent independently or as a group. Known for making guests feel at home while also private, Newboro House B&B offers personal bath robes and delicious breakfast.
Photo: Newboro House Bed & Breakfast by Nicki
Antiques
Antiquing is a classic summer vacation activity and Rideau Lakes is the perfect place for it. If you're an antique lover, tour Rideau Lakes for your next shopping trip; you'll find hidden gems at every turn. Take a closer look at these antique stores in Rideau Lakes!
Known for everything from antique furniture to vintage comics, Aunt Molly's Antiques is quickly becoming known as a must-stop on the local bargain hunting trail. Explore old books, antique paintings, dishes, glassware, cast iron, table lamps, and oil lamps at this shop in a heritage red brick building in Crosby next door to the Castle Rideau Lakes Home Building Centre, at 7719-B County Road 42 (at the corner of Highway 15 and County Road 42).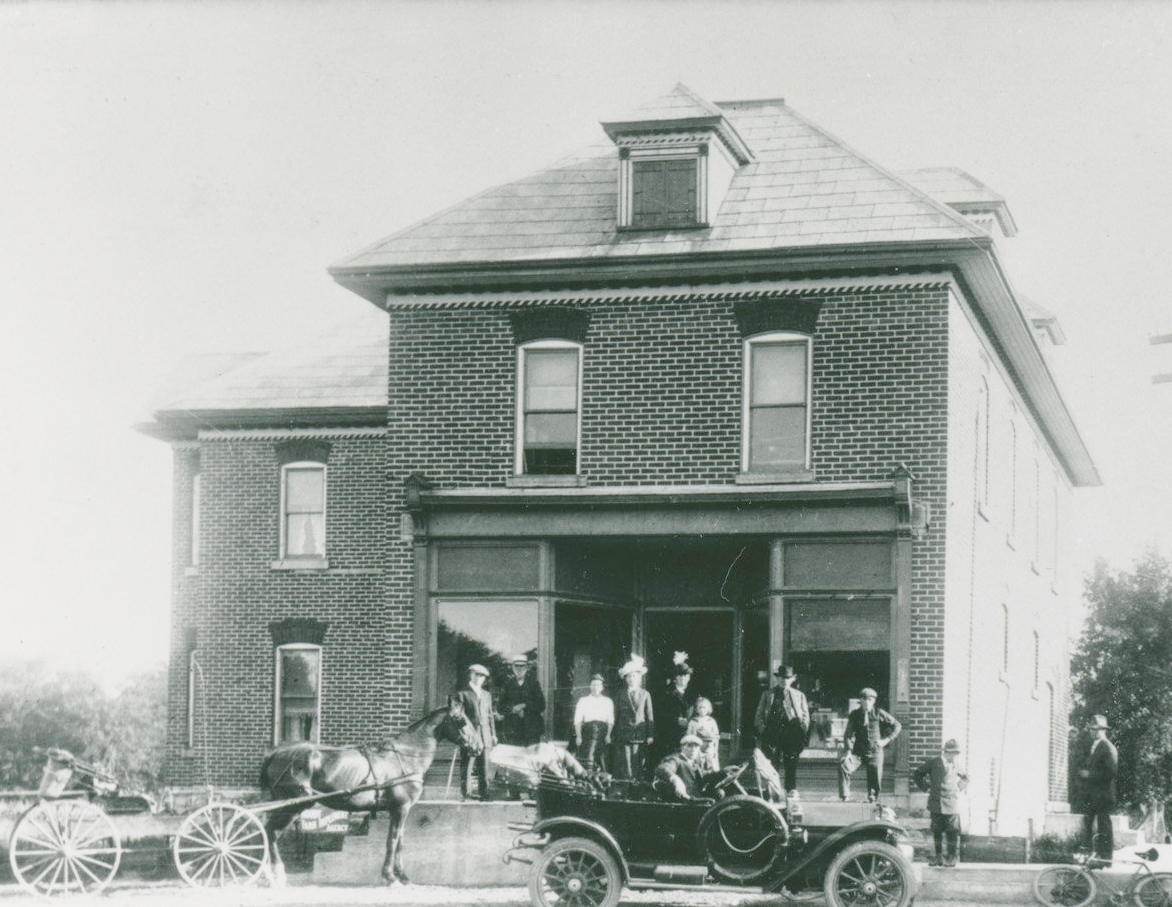 What's old is new again… or nearly new! Bernie's boasts over 5,600 square feet of antiques, furniture, collectables and home decor. With stock that is constantly rotating and new items coming in every week, Bernie's' Nearly New Shoppe is active on Facebook so you can peek at the latest finds before heading out on your antiquing adventure. Located at 381 Highway 15 south of Smiths Falls.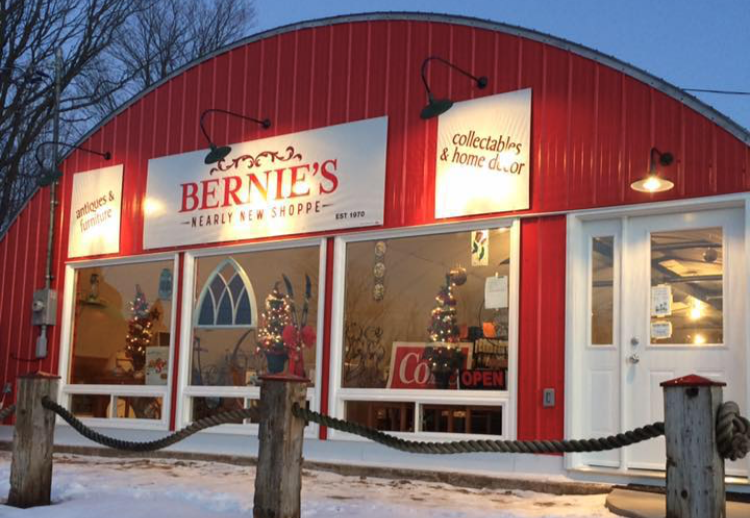 Photo: Bernie's Nearly New Shoppe by Chanse Warren
Where you can dig up not-so-buried treasure! Enjoy browsing this charming vintage shop offering antique furniture and hidden gems.
Home of the rare and unusual, Gallery15 is the place if you are looking for some Harley Davidson items or fun collectables. Look here for online auctions, too!
Old World Country Antiques
Furniture and collectibles await at Old World Country Antiques just outside of Newboro at 8525 Hwy 42. This 1,000 square foot shop is fun to poke through, with Canadiana artwork, decoys, paddles, rare books and cottage decor. Owner Levi can be reached by telephone at 613-272-2024. Open Mondays, Wednesdays, Thursdays, Fridays and Saturdays from 10 a.m. to 5 p.m. Closed Tuesdays. Sundays by chance.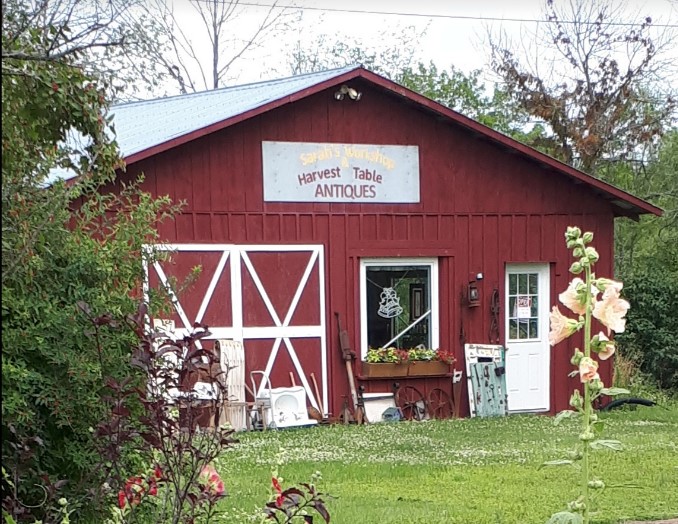 Photo: Old World Country Antiques by Levi Doucet
Rideau Antiques is an antique shopper's paradise! Roam the warehouse, barn, and almost endless inventory outside to find a unique Rideau Lakes souvenir to bring home with you. Featuring Canadian furniture, clocks, glass and china, woodenware, lamps, bottles, tools, books and hardware – and that's just inside! The outside yard at 104 Rideau Ferry Road, County Road 1 is also a trove of doors, stoves, tubs, sinks, license plates, farm implements and more. Open Monday to Saturday, 9 am. to 6 p.m. Treasures are piled high around every corner here – be sure to plan ample time to see it all.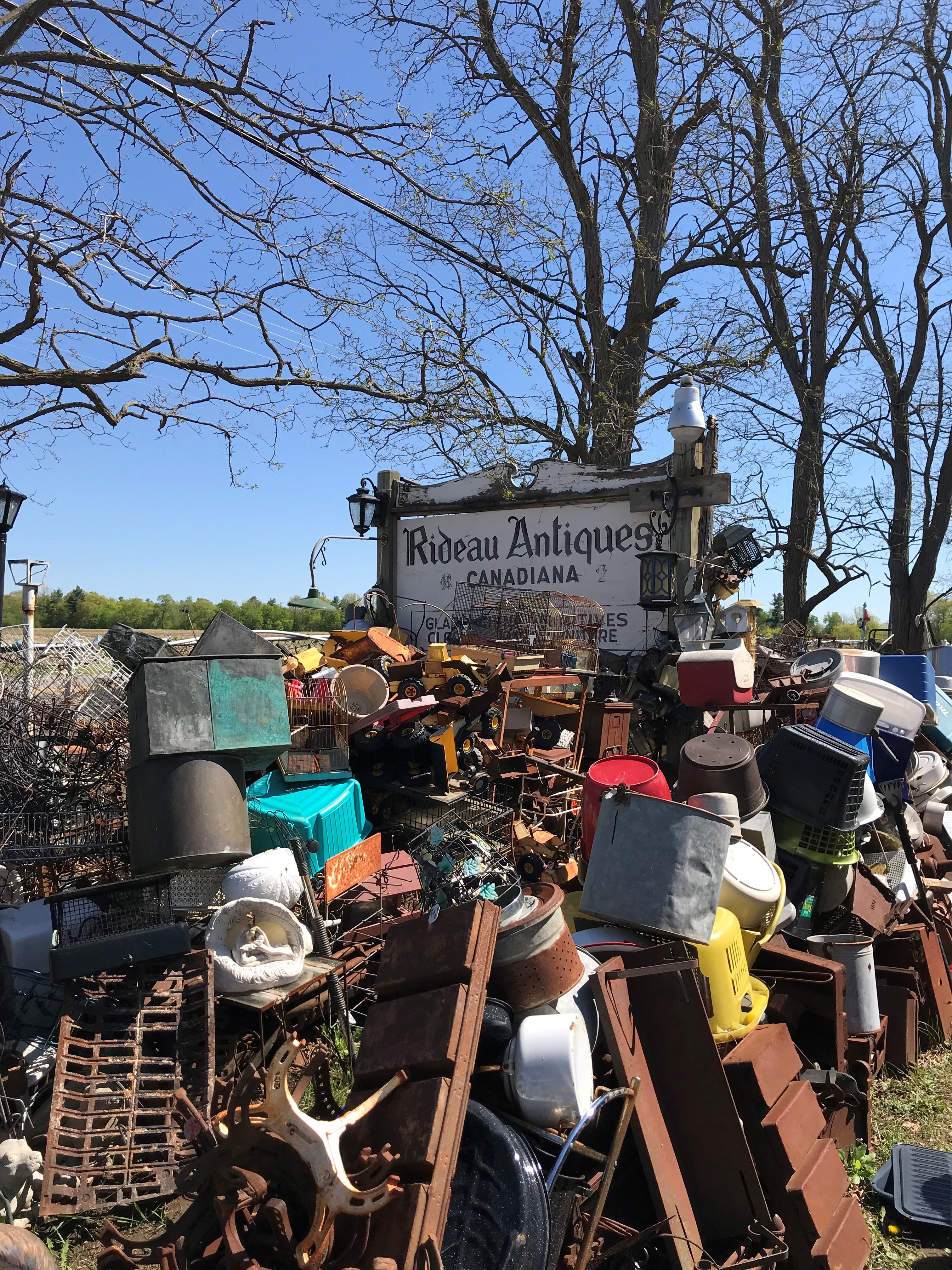 Photo: Rideau Antiques by Leila Stafford
Settlement House Antiques and Collectables
Conveniently located at 240 Highway 15 (Lombard Street) near Smiths Falls, you will find furniture, art prints, signs, Royal Dalton figurines, fishing tackle, comics and supplies. This buy, sell and trade establishment will give you the true experience of hunting for treasure! The owners have been collectors for many years and recently completed an expansion to the 2,000 square foot shop in order to house more of their hidden gems. If you are looking for something specific, call Frank at 613-272-3342 or Bob at 613-223-1926. Open 7 days a week. Summer hours are 9 a.m. to 5 p.m.

Make this May memorable and sip on tea, go on an antiquing adventure and even stay in a local inn to experience Rideau Lakes in spring!