Explore Rideau Lakes on two wheels! The rolling landscapes and waterfront views are an unforgettable experience by bike.
The country roads and secondary highways in the township offer a beautiful ride for cyclists of all levels. Check out these bike tours, events and cycle-friendly businesses in Rideau Lakes.
Experience Rideau Lakes has developed 14 self-guided cycling tours encouraging visitors to explore our township and local attractions at their own pace. These routes range from 20 km to 120 km with varying levels of difficulty and road surface. Visit the Township of Rideau Lakes website to download a printable version of each route.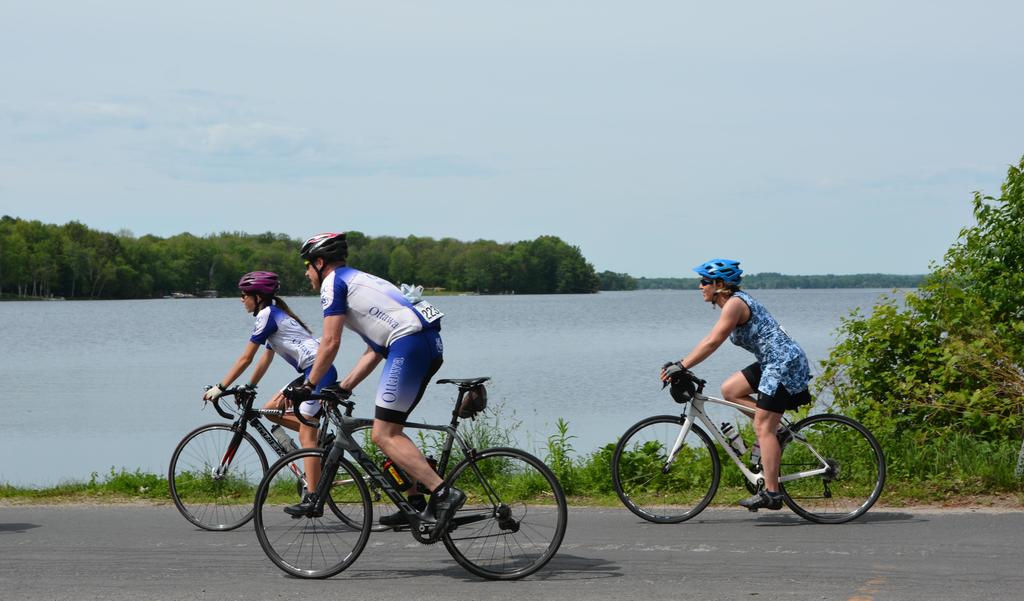 Photo: Rideau Lakes Cycle Tour Facebook Page
The Ottawa Bicycle Club Rideau Lakes Cycling Tour is an annual event taking place the second weekend of June - and it's celebrating its 50th edition in 2023! As such, the Rideau Lakes Cycling Tour is the longest running cycle event in Canada and attracts cyclists from across North America. Two lengths offer one-way distances ranging from 106 km - 220 km. Enjoy the beauty and hospitality of Rideau Lakes villages, meet other cyclists, and have a weekend you won't forget! Full details on the Ottawa Bicycle Club website.
Cycle - Friendly Businesses in Rideau Lakes
Spare time bike repairs in North Crosby-Westport. Owner Kristof is highly knowledgeable and very skilled, with a passion for cycling. In his spare time, Kristof offers Basic, Advanced and Custom Bicycle Services. Appointments required. Check out the Facebook page for more information, https://www.facebook.com/bichelangelowestport
With many of the Rideau Lakes Cycling Routes including Delta, be sure to swing by the Bastard Coffee House for a coffee, latte, sweet treat or locally-sourced wholesome breakfast or lunch option. This cozy community spot, set in the historic Jubilee Block, provides a welcoming place to recharge or start your cycling journey in the township. Also a great launch point to check out the Old Stone Mill National Historic Site across the road!
Located near the Cataraqui Trail at Forfar, where cyclists are often seen with ice cream cones on the streetside patio. Refuel with lunch, pack a baked treat for your next pit stop or find your favourite flavour of ice cream - and be sure to try the delicious curd at this historic dairy, too.
Some of our Rideau Lakes Cycle Routes take in Jones Falls so be sure to stop for ice cream, some homemade gourmet cookies or brunch overlooking one of the most impressive series of locks on the canal. A perfect stop for local history, exploring and watching the UNESCO World Heritage Rideau Canal in action.
A pleasant stop for strawberries and in-season veggies! This fully-loaded farm stand is located along Rideau Ferry Road (County Road 1) which has paved shoulders and has proven to be a popular, scenic route with local cyclists.
A great rest spot along Highway 15 with lots of room to park your bike, stretch, and replenish your energy. Kick start the next leg of your ride with espresso drinks or choose from the menu of fresh, healthy options. Hot day? Finish with a gourmet popsicle! Patio tables are a popular choice with cyclists.
Bicycle rentals, perfect for cycling up to The Opinicon for a chef-made ice cream cone after a jaunt along the Cataraqui Trail in Chaffeys Lock. The trail bikes available here are also super for discovering the gorgeous, peaceful secondary roads in the township.
Bike racks are conveniently located at the Ice Cream Shop, right next to the pub and dining room overlooking stunning grounds in the charming waterfront hamlet of Chaffeys Lock. Check the website for live music events!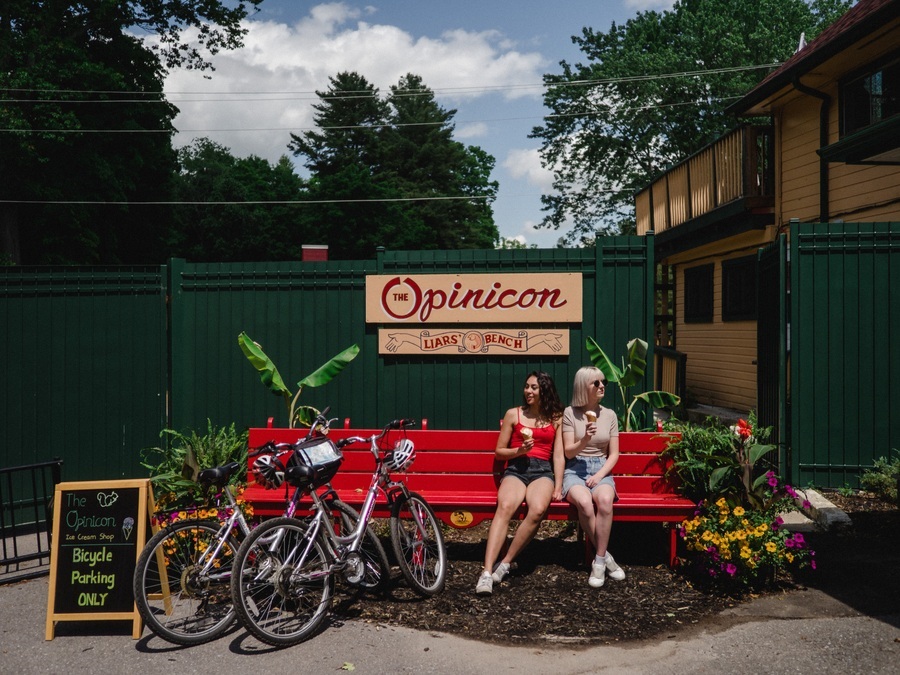 Photo: Ice Cream Shop at The Opinicon by Tim Forbes | RTO9
Grab your helmet and some friends and get ready to explore Rideau Lakes by pedal power!