Photo: No. 9 Gardens
The very best of waterfront life is found in Rideau Lakes. Whether you prefer to stay at a luxe lakeside cottage or want to have a rustic camping getaway this summer, there is a special place for you waiting in Rideau Lakes. With 37 lakes, this is cottage country - and you won't believe how many cottages there are on the Rideau System!
Keep reading for our top picks for cottages, cabins, campsites, vacation rentals and houseboats in Rideau Lakes. If you see something you like, check in with the owner right away, accommodations are booking up for the busy summer season.
*New for Ontario residents: The Ontario Staycation Tax Credit will provide up to a $400 per family tax savings on vacation accommodations used in 2022.
Cottages
This traditional fishing lodge offers cute waterfront cabins located near to the village of Rideau Ferry.
Offered by Rideau Tours across the road from the UNESCO World Heritage Rideau Canal just steps away from Chaffey's Lock Community Hall, the Opinicon Resort, Brown's Marina, The Lockmasters Museum, The Mill Art Gallery and the Cataraqui Trail.
If you like a screened in porch, you have six cottages to choose from at Box Arrow Farm's Cedar Cove Cottages.
Family run for over 40 years, this little spot in Delta has four rustic cabins.
Clear Lake Cottages offer six family friendly cottages all within 5 feet of the water's edge. Enjoy fishing, swimming, and making summer memories at Clear Lake Cottages.
Near Chaffey's Lock, offering 6 Cottages and Housekeeping Cabins on the shore of Lake Opinicon.
Loved by boaters and fishermen, these six cottages on Clear Lake have access to 6 lakes on the same water level.
In beautiful Newboro or on Big Crosby Lake, have your choice of 3 cute cottages including the Original Lock Master House circa 1863.
Set on Clear Lake, these retro cottages will take you back to the happy days of childhood.
A boater's dream, located on the Rideau Canal system in the village of Portland.
Waterfront Cottages in the beautiful village of Delta close to beach, playground and trails.
On Wolfe Lake near Westport, these pet-free cottages have boat rentals available too.
Six cottages overlooking Newboro Lake, a historic fishing location.
Featuring a sand beach, these 10 cottages on Clear Lake are heated with satellite TV and offer paddleboats for guests.
Choose from 24 amazing cottages in Rideau Lakes!
Known for great swimming, there are 23 cabins with campfire areas to enjoy a marshmallow roast.
Sand Lake Campground and Cottages are what summer vacation dreams are made of! With campsites and cabin rentals available, there are accommodations for many families. Plus, there is a sandy beach, play structures, games room, and more!
Simmons Cottages have been operating in Rideau Lakes for more than 100 years! Simmons has nine cabins available for rent located near Chaffey's Lock.
On Newboro Lake you'll find a collection of five eco-friendly cottages at Turtlehill Cottages. Committed to being environmentally-friendly, each Turtlehill Cottage features water saving showers and toilets, bamboo linens, reclaimed lumber flooring and more.
Near Westport on the shore of Upper Rideau Lake, six lakefront cabins share 500 feet of water frontage on a 5-acre property.
Cabins and cottages on the Big Rideau. Create camping memories that last a lifetime.
Some cottage rental properties don't have a website. If you'd like to book by telephone, try Bass Bay Cottage at 613-777-9767 or McParland Cottages at 613-273-3281.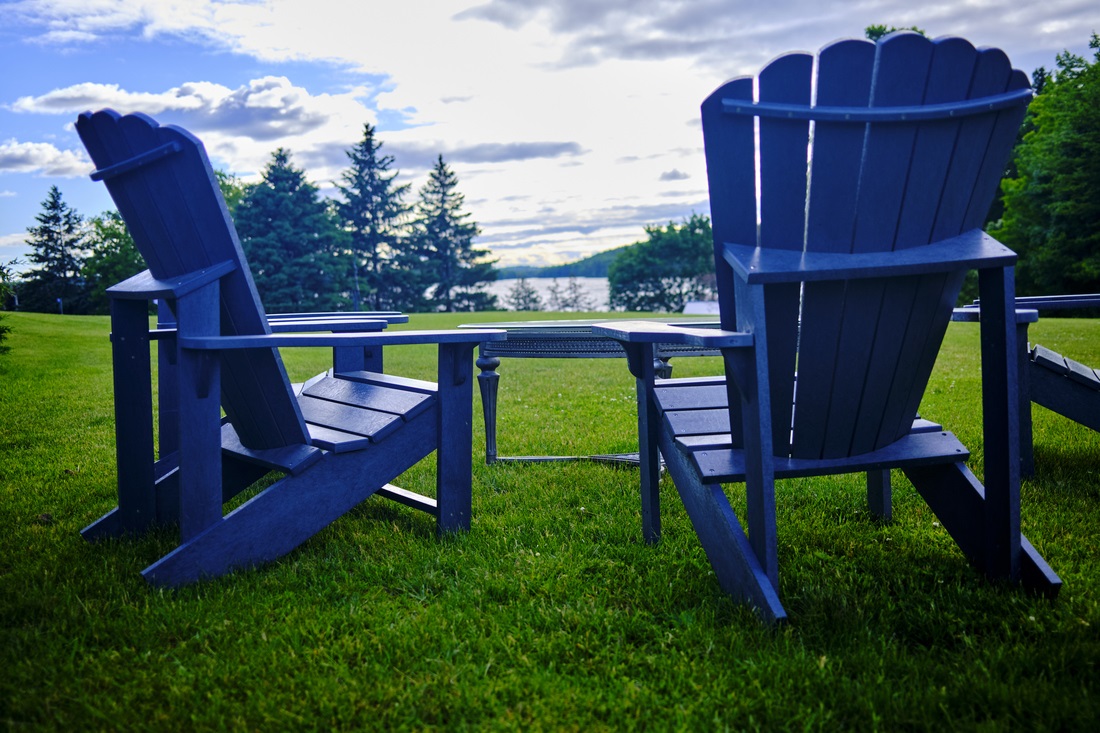 Photo: Rick Ogrodzinski - Overlooking Sand Lake
Camping
This campground for tents and trailers is located on Upper Rideau Lake with a beach and docking facilities.
Located on Opinicon Lake, Skycroft Campground Resort is perfect for families wanting to create summer memories year after year. There is an outdoor activity for everyone at Skycroft - swimming, fishing, volleyball, games, and over 20km of marked hiking trails.
On the Rideau Canal, this marina with dockage has overnight accommodations with hydro and water, washrooms with showers, laundromat and pump-out facilities for boats. The campground has permanent and overnight sites, hydro and water, washrooms with showers and laundromat access.
Some campgrounds don't have a website. If you want to try booking by telephone, check out Battams Camp near Sand Lake Campground in Elgin at (613) 359-5560 or Moonlight Bay Campground on Otter Lake at (613)-430-4790.
Glamping
Looking for a unique camping experience at Canada's First Sustainability and Reconciliation Centre? Check out No. 9 Gardens Eco-Camping experience and reconnect with nature in Rideau Lakes.
Nestled in the trees overlooking the UNESCO World Heritage Rideau Canal and just steps away from Chaffey's Lock Community Hall, the Opinicon Resort, Brown's Marina, The Lockmasters Museum, The Mill Art Gallery and the Cataraqui Trail.
Vacation Homes
Wanting to experience Rideau Lakes but not wanting to sacrifice on the comforts of home? The Juniper Lakehouse on West Devil Lake is for you! Enjoy comfortable spaces, trendy decor, and waterfront views at the Juniper.
Xanadu offers chic accommodations with plenty of space to explore on the property. Enjoy lounging or swimming right off the dock.
You can't miss Rideau Pines - a renovated log cabin with a vibrant teal and pink exterior. Rideau Pines offers space to stay in the main cabin, a guesthouse, and kayaks and stand-up paddleboards for guests.
Modern comforts at a private cottage to relax & explore hiking trails, birdwatching and campfires. Equipped with a generic electric car charger as well as four Tesla chargers.
Houseboats
Treat yourself to a floating cottage this summer and check this dream vacation off your bucket list.
And there is more! Private cottages, Seasonal Campgrounds and Long term rentals are available too.