The Township of Rideau Lakes, in conjunction with the Bass Lake Property Owners Association, has initiated a Class Environmental Assessment (Class EA) for the Bass Lake Dam and Control Structure to address long term lake levels within Bass Lake. The study, being completed by Water's Edge, will explore opportunities to replace the existing dam and determine an appropriate lake level.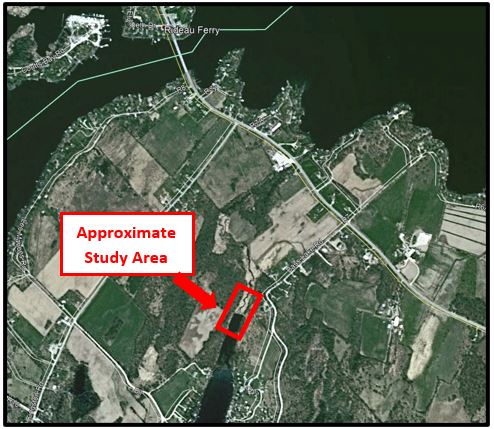 The project limits are from approximately 50 metres upstream to approximately 100 metres downstream of the existing dam and lake outlet located at the northeast end of Bass Lake within the Township of Rideau Lakes (refer to Key Plan). Once the overall deficiencies and surrounding environment are better understood through background investigations and technical assessments, a preliminary set of alternative solutions will be evaluated and presented to interested stakeholders at a Zoom based e-meeting Public Open House set for July 28, 2020 at 6:00 p.m. (details below). The Study will be completed and available for a 30-day public review in September 2020.
Building upon previous work completed by the Township (e.g. Bass Lake Outlet Berm Investigations – Jp2g Consultants, August 29, 2019), the Study shall be carried out in accordance with the Municipal Class Environmental Assessment process under the Environmental Assessment Act. As part of the Class EA process an evaluation of alternatives, assessment of potential environmental effects and identification of mitigation measures for potential adverse impacts will be conducted and presented through public and agency consultations. The Class EA process will take into account adjacent private properties, aquatic habitat concerns, future operations and maintenance, aesthetics, safety, and social and recreational uses.
Cost Recovery By-Law
This project is being completed for the benefit of the property owners on Bass Lake. It seeks to resolve decades of conflict and concern over the existing un-permitted private outlet berm and associated lake level management. The Township Council has agreed to pay (grant) 50% of the project costs. The Township is planning to recover the other 50% of costs from the benefiting property owners. A Special Services Charge By-law has been proposed to give this cost recovery legal force and effect.
A draft by-law as well as a proposed formula for calculating the individual property charge has been developed in concert with the BLPOA. While the applicable charge will not be finalized until the project is complete and all costs known, based on available estimates and the BLPOA recommended formula, it is anticipated the average charge will be $385 per residential/rural property (based on an assessed value of $340,000). A separate levy will be negotiated for commercial properties. The Township welcomes comments from interested parties on the proposed formula to calculate the charge and the draft by-law to give it legal effect.
Bass Lake - Draft Special Services By-law Cost Recovery
Per Property Assessment Charge
The Bass Lake Property Owners Association (BLPOA) Board of Directors has been assessing various options for calculating the applicable per property charge under the Special Service Charge by-law. They are recommending a hybrid formula that applies a standard flat rate equal across all properties blended with a variable rate based on your property's MPAC assessment.
2020-05 BLPOA Recommendations - Special Services Levy Determination - Bass Lake Outlet Project
Determining Appropriate Lake Level
2020-07-14 Bass Lake Water Level Memo
Public Open House
Interested stakeholders (public, landowners and regulatory agencies) are invited to a public Open House (presentation and Q&A opportunity) via Zoom set for July 28, 2020 at 6:00 p.m. Interested parties are asked to register by emailing Meg at , so that they can be sent the Zoom meeting link closer to the date of the event. Interested parties are encouraged to review the documents related to the project on the Township website (link above) before the meeting. This session will be recorded and made available to anyone who wishes to view it at a later date.
For further information regarding this project, or to submit public comments/concerns, please contact either of the following:
HISTORY:
Bass Lake Outlet Studies Reports by JP2G
2019-08-29 Bass Lake Outlet Berm Investigation Report by Jp2G
2019-07-19 Bass Lake Outlet Berm Investigation including Appendix
Public/Town Hall Meetings
At the public meetings JP2G provided an overview of the studies' context and history, public feedback received to date, options for the outlets, and fielded public questions.
Bass Lake:
2019-06-22 Bass Lake Presentation
Saturday, June 22 starting at 8:30am at South Elmsley Municipal Complex (441 Highway 15)
Consultation
Consultation Period: May – June 14, 2019
Bass Lake Outlet and Water Level Management Survey
Online Bass Lake Outlet Consultation
2019-05-14 Notice of Consultation Bass Lake
Bass Lake & Otter Lake Study Project Terms
The Township has engaged an independent engineering firm, JP2G, to:
review the current Otter and Bass Lake outlets,
determine the range of technical options available to address stakeholder concerns;
conduct inclusive and informed public consultation; and
determine a preferred option for changes to the outlets, if any.
2018-02 Otter and Bass Lake Outlets Project Terms from RFP
Background Documentation
Review past Township reports, resolutions and correspondence related to Bass and Otter Lakes