Held at Sand Lake in Elgin (345 DeLong Road off Davis Lock Road) from 9:00am to 4:00pm Monday to Friday, July and August, this Day Camp Program offers a variety of enjoyable activities for children 4 to 12 years of age.
Children must have turned 4 by January 1.
Staff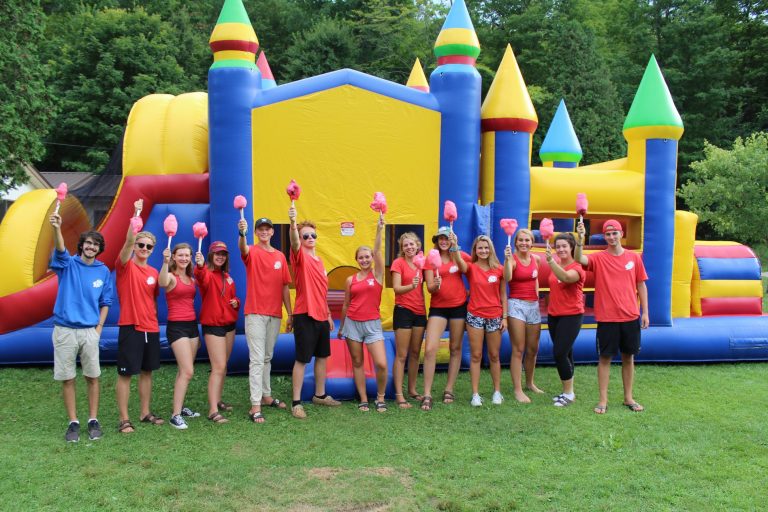 Staff are well trained and show exceptional enthusiasm and commitment toward your child's summer experience. We are proud of the young people chosen to work at the Rideau Lakes Day Camp.
Our Staff are University, College and Senior High School students. A maximum of 70 children are accepted per session.
Volunteer Leaders in Training are also on site to lend a hand. A Leader in Training is usually 14 or 15 years of age, (must have turned 14 by January 1, 2020) and will volunteer for one session to learn the responsibilities of a Day Camp Counselor. Students interested in this type of volunteer position are encouraged to call the Township for more information.
Our camp is an inclusive camp welcoming all levels of abilities; however please understand our staff may not have the specialized training or resources to provide campers specialized care when required.
We encourage families to contact us prior to registering to ensure we can develop an appropriate accommodation plan. Please be advised this may require a parent or guardian to provide an on-site personal support worker if deemed necessary at the sole discretion of the Township.
Support workers will be permitted at the camp and allowed to travel with the camper in their care at no additional cost. Registration fees will be charged for your child only, not the child's personal support person.. The camp offers a host of outdoor events. Crafts, sports, games, swimming lessons and free swim, canoeing, drama, special guests and trips make the summer a fun and wonderful time for all the children involved. It is a nature-oriented camp. No electronic devices are permitted.
Program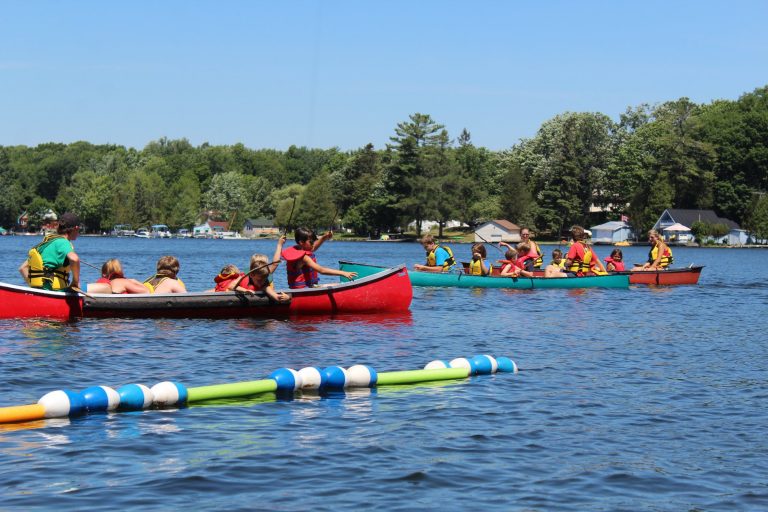 There are no electronics permitted at camp. We are a "back to nature" oriented program and encourage active participation throughout the day rain or shine!
Parents are encouraged to register their children for a complete 2 week session. The last Friday of each session a "Drama Dazzler" performance is put on for family and friends at 3:00 pm depicting the theme of that particular session.
2020 Program
Session 1 - Splish Splash Theme: July 13 to July 24
Session 2 - Farm Days Theme: July 27 to August 7
Session 3 - Wheel of Themes: August 10 to August 21
You may register your child for one week if space permits. Waiting lists will be prepared once a session is filled. Parents will receive an e-mail or telephone call to confirm your child's registration at the Day Camp, their swimming level for lessons and their bus schedule.
Registration
2020 Registration Opens: May 1, 2020 on a first-come-first-served basis.
2020 Registration Deadline: June 22, 2020
To register your child for this program please fill out a Camp Registration Form and return it to the Township Municipal Offices in Chantry (1439 County Road 8) by June 19 along with full payment by cheque, cash or debit only.
2020 Registration Fees are as follows:
5-day week
$156.00
4-day week
$125.00
Multi week discount
(4 and 5-day weeks included)
Full rate for first 2 weeks,
save $25.00 for each additional week.
Sibling rate (three or more children per family)
Full rate for first two children,
$65.00 per additional child.
Swimming lessons are included in the registration fees. Bus fees are an additional $6 per child per day.
Please contact Leila Stafford, contact details on Staff page., Recreation & Volunteer Coordinator for fee inquiries 1-800-928-2250 Ext 238. We may have some subsidies available.
When registering you may pay for your child's camp shirt ($10.00); and tuck items (freezies $.75/day and $2.50 for a hot dog – one day/week)
Postdated cheques are accepted so long as the cheque is dated two weeks prior to the commencement of your child's attendance at camp.
Parents/Guardians registering children 5 years of age and younger must provide documentation identifying proof of age as of July 1st. A photocopy is acceptable.
Please register prior to the deadline date – this allows Staff appropriate time to prepare camp groups, special events and swimming schedules.
Busing
Cost: $6.00 per child per day to ride the bus. We do not offer any subsidy for busing.
There is no supervision on the bus. Children will be expected to behave. Inappropriate behavior will not be tolerated. Unsuitable conduct will mean removal from the bus and participation in the Day Camp. No refund will be issued.
2020 Day Camp Bus Schedule
Lombardy – Lombardy Public School – 596 Hwy 15
Portland – Rideau Lakes Public Library – 2792 Hwy 15
Newboro – Community Hall – 15 Drummond St
Westport – Rideau Vista School – 9921 County Rd 42
Elgin – South Crosby Public School- 1 Halladay Street