Do you have a special event planned? Perhaps you have a new business to open or an existing business to celebrate? Do you have something nice to say but you need somebody to say it for you?
These are just a few things that your Town Crier can do for you, or on your behalf. David Boyd, the Township of Rideau Lakes Town Crier is often seen leading parades in Elgin, Newboro and other places throughout the Township.
The Rideau Lakes Town Crier's voice has been heard half way around the world from the ancient city of Chester England to the beautiful town of Anacortes Washington. David Boyd is there to promote our community and encourage the world to come and visit us.
In the winter you will see the Town Crier at Skate the Lake in Portland and at many other festivities. If your community is celebrating a special event, David Boyd is available – FREE OF CHARGE! For private functions, his fee is very affordable!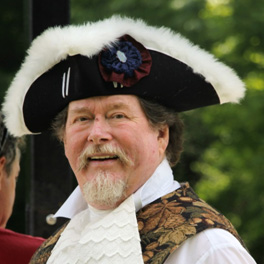 The ringing of his bell followed by his announcements adds a sense of joyful celebration to any special event. Brass buttons, gold braid and his fancy-that hats! He is your man for all occasions. Some folks have even hired Town Criers to speak up when they feel bashful, like proposing a wedding engagement or to emcee a special evening event.
The Town Crier is also a great way to advertise your business or attract attention to a commercial success.
Include the Town Crier in your plans, but book him early, he is a popular fellow!
Contact David Boyd, our Town Crier at 613-359-9904