Admire the sparkle of Ontario's architectural gems on a drive to see designated heritage buildings that are indeed the "stars" of their communities. Properties of heritage interest and their stories are detailed in the heritage walking tours and heritage driving tour brochures online at https://www.rideaulakes.ca/experience/things-to-do/trails-tours.
Chaffey's Lockmaster House Museum
1724 Chaffey's Lock Rd, Chaffey's Lock
Built in 1844 as a low-cost substitute for a blockhouse to defend the canal against American-based raiders, the Chaffey's Lockmaster's house was originally a one-storey limestone building. A tin roof protected it in case of fire and two stone porches and gun-slits provided extra defense in case of attack. In 1894 it was renovated and a frame second-storey and kitchen addition were added. Watch the new documentary Fettercairn WWI on Indian Lake to learn more about Chaffey's Lock. http://www.chaffeyslock.ca/lockmasters-house-museum.html
Old Stone Mill
44 King Street, Delta
The main attraction in Delta is the Old Stone Mill, built in 1810, now a seasonal museum and a designated National Historic Site of Canada. Drawing visitors from all over the world, this prized mill site provided the nucleus for a flourishing agricultural and industrial community throughout the 19th and early 20th century. Completely renovated, working millstones were installed for its 200th anniversary in 2010. It is open to the public from Victoria Day weekend to Labour Day and during events, where it continues to grind and sell locally grown heritage Red Fife wheat, offer interpretation, exhibits and employs local students to conduct guided tours.
http://www.deltamill.org/
The Red Brick School
3 Halladay Street, Elgin
A provincial plaque at the Red Brick School House in Elgin commemorates this architecturally elaborate two-room school, which opened in 1887. The school is a very early example of the late 19th century campaign to improve Ontario's system of public education through the construction of better buildings. It also illustrates that Elgin was a forward-looking community, erecting this building to showcase its local pride and commitment to progress through education. Listen to the Story of the Elgin Quarries to learn more about the village.
https://www.rideaulakes.ca/experience/general-info/our-villages/elgin
The Pimple
24 Pearl Street, Morton
Morton's brick schoolhouse, built in 1853, was designed to incorporate the most current of educational philosophy and hexagonal design. Used as a school until 1900, then as a residence, "The Pimple" survives as one of the most unique buildings in our Township. Listen to the Story of the Morton Pimple to learn more.
https://www.rideaulakes.ca/experience/general-info/our-villages/jones-falls-morton
St. Mary's Anglican Church
15 Brock Street
This church is built in the Gothic Revival style and features pointed windows with lancets and a pointed transom above the entrance. The squared tower, which emphasizes verticality, has a belfry and short spire. The north façade has a gothic bay with arched stain glass windows. The interior demonstrates fine craftsmanship with a regency-gothic altar on a raised platform flanked by communion rails, butternut pews, a 'rostrum pulpit' and an organ and choir stalls. It has served the community as an Anglican Church from its construction to the present day. Started by some labourers building the Rideau Canal, the church first met in the home of Benjamin Tett. Realizing the need for a permanent structure, Tett spearheaded the church's construction by donating the land and helping to pay the workers' wages with credit from his store. Built by the Stanton brothers and other congregation members, including John Poole Tett, this landmark features windows donated in memory of various community members (one of unique Tiffany artistry) thus helping to reinforce the collective memory of the community. The associated rectory at 11 New Street still exists.
Watch The Rideau Canal The Big Breakthrough documentary to learn more about the history of Newboro.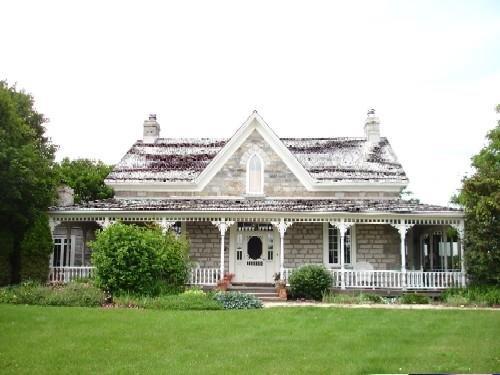 David Laidlaw House
328 Centreville Road, Westport
The David Laidlaw House consists of a one and a half-storey stone house in the vernacular "Rideau Cottage" style which became the most popular form for a farm dwelling in Ontario between c1840 to c1875. Begun in 1849 and completed in 1852 by David Laidlaw II from locally quarried limestone, it still stands today as an important landmark in the area. Its exceptional heritage value is seen in heavy, well-cut corner quoins, stone lintels over most of the windows, side-lights and transom
around the front door, arched window beneath gable roof-line with radiating stone voussoirs, two chimneys and the symmetrical façade. The 1842 census records ownership by David Laidlaw, who had emigrated from Scotland in 1839 to farm in Ontario. Following his death, his son, David Laidlaw II constructed the stone house that stands today. David Laidlaw III retained ownership of the house until his death in 1905.
https://www.rideaulakes.ca/experience/general-info/our-villages/north-crosby-westport-area
Emmanuel Heritage Centre
2767 Hwy 15, Portland
This former Anglican Church is typical in size and style of early rural churches along the Rideau Canal (Gothic Revival), but uniquely built with local Nepean sandstone. It features a high gabled and metal covered roof, plain wooden trim on eaves and verges, eight narrow, stained-glass pointed windows capped with voussoirs, the corners trimmed with stone quoins, a red steeple on the front façade, long vents on the steeple with semi-circular heads, and a double-leafed door located at the base of the steeple with pointed transom light. The church sits high on Portland Hill, overlooking the Village of Portland and Big Rideau Lake, on a half-acre donated by Mr. & Mrs. William Homer Sherwood, one of Portland's first farmers. Construction was quickly completed in 1861 by local tradesmen William Willoughby (stonemason) and J. Horton and J. Earl (carpenters). In 1868 more land was obtained for a cemetery.
Wood Mausoleum & Cemetery
299 County Rd 29, Lombardy
Found beside the Bethel Pentecostal Church, the exterior of this mausoleum built in 1895 exhibits a beautifully mortared stone façade, and cast iron gates. This is the final resting place of Alexander Wood, co-founder of the Frost and Wood Company. Read the article about the prominent families affiliated with this memorial site. https://www.toronto.com/community-story/5763775-wood-s-mausoleum-holds-some-of-the-town-s-most-influential-residents/
https://m.facebook.com/WoodMausoleumCemetery/posts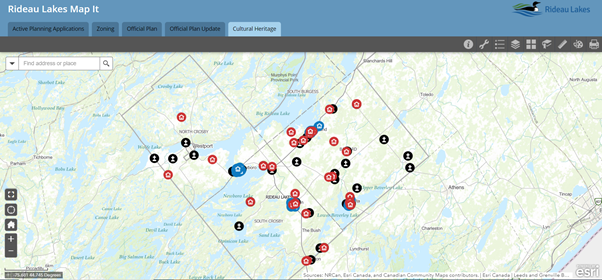 Link to Map: https://www.arcgis.com/apps/MapSeries/index.html?appid=818394433eb54593b3943610489afe7c